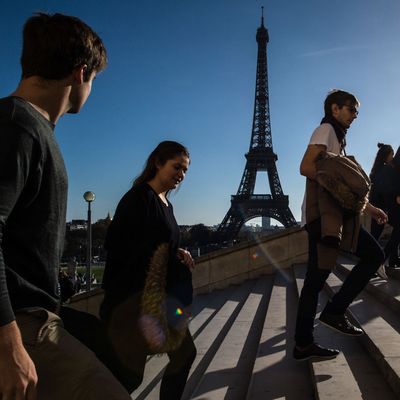 Photo: David Ramos/Getty Images/2015 Getty Images
A week after the terrible events in Paris and Beirut, expatriates from both cities who have chosen to make their lives in New York (as so many do) have begun wondering: Is it time to move back home? We spoke with former residents of both cities to hear their thoughts on the tragedies in their respective hometowns — and whether the events sway their feelings about moving back, soon or ever.
Journalist Shirine Saad, who grew up variously in Beirut, Paris, and Montreal, has dimly entertained the thought of moving back to Beirut, where she often returns to see family and friends, and courted the same thoughts, more seriously, about Paris. (Ironically, Beirut is often referred to as the "Paris of the Middle East.")  But now she's more inclined to stay put in New York. "Every time Lebanese people talk about making future plans," she says. "We say, 'Let's see what the situation is going to be, let's see what happens with the Syrian war, with how it goes with Israel.' We're always waiting and hoping. But with the air strikes in Syria, all the countries getting involved and the possibility of war, it's going to make things worse in Lebanon. We feel right now that the country is at its lowest state since the civil war" — not only because of the paralyzed government, she says, but because Lebanon is overwhelmed with Syrian refugees, who now make up about a quarter of the population.
She's wary about staying in the U.S., though, especially if it turns away needy refugees, especially Muslim ones. "I'm not a Muslim, but I'm sensitive to those issues," she says. "Nobody wants to live in a racist country." New York isn't an easy place to live, she notes. "This is a wonderful, dynamic city full of exchanges and opportunities, but it's also expensive and can be brutal and competitive." Yet she doesn't necessarily see Paris as softer. "It's not easy to penetrate the job market there, especially if you didn't go to school there."
"Everyone in France can be a target now, including Muslims," says Marianne Fabre-Lanvin, who works in a tourism office. She noted that, in contrast to the January murders there, which targeted "blasphemous" political cartoonists and Jews, Friday's attentats, as the French call them, happened in a young and cool neighborhood, the Paris equivalent of the East Village or Williamsburg, as though the attackers wanted to put the French on notice that nobody was safe. "You don't have to have drawn cartoons that are deemed offensive or shop in a Jewish commercial center."
"Those people were very much my generation," says Anne Takahashi, 35, a Paris-raised marketing consultant based in New York. She says she'd have moved back to Paris in recent years if she could have found a job there, to be closer to family, but the French economy, sluggish for several years now and even more at risk of stalling after the attacks, has prevented that. "I feel guilty for not being in Paris right now [to support family, friends, and the country in general], and at the same time relieved," she said. "It's almost like I escaped, which is a very confusing and emotionally exhausting feeling."
She wasn't the only Parisian to say that the attacks added a little more fuel to their growing resolve to stay in New York. "Paris is a very enjoyable city for many reasons," says photographer Charles Roussel, 31, "but more and more, I see the quality of life in New York more and more appealing. For me as a young creative, New York gave me a chance that would be very hard to get in Paris. The economy is better, and the mentality is more open-minded. My grandmother used to ask me when I was coming back, but now she says, 'If you have work, just stay there.'"
And despite the fact that New York was attacked, and likely will be again, there is a feeling that maybe Paris just isn't as safe. "I panicked and called my parents in Paris and asked them to move out," says Anna Polonsky, co-founder of a New York–based hospitality branding and design agency. "But my dad said that this is a world problem now and they wouldn't feel safer in New York or anywhere."

"I feel like I'm more shaken than my friends in Paris," says Julien Benichou, 31, a photo retoucher who grew up in Paris's Marais but lives in New York now. "They keep saying, 'We have to live; we can't let those people control our lives.'" (They're so intent on this, in fact, that the simple daily act of sitting outside at a café is now considered a defiant political statement.) As a Jew, Benichou says he never experienced overt anti-Semitism in France, but he still feels more comfortable in New York. "There are just more Jewish people here," he says. "People do Chrismukkah here. There are Orthodox Jews here, and nobody is pointing at them. That is what I love about New York. People can do what they want. And people talk to each other here more easily than in Paris."
"Random people in the street who hear me speaking French have been coming up to me asking if everything is fine with my family and friends," says Lucie Bulois, 29, a content manager for Buzzworthy who moved here from Paris six years ago and lives in Bushwick. "Kids on my street put up Eiffel Tower pictures and 'Prayers for Paris' signs on the fence at the baseball field. I teared up when I saw that. I can't believe that even my local neighbors feel concerned about us."
Some Beirutis felt the bombing there was overshadowed by the events Paris. "Nobody cares about what happens in Beirut because nobody thinks that something good is ever going to come to that city, which makes me feel mad," says my Beiruti friend Hadi, 34, who's been in New York more than six years and works in patient relations (partly translating between English and Arabic) for a major hospital. Still, he admits that, amid a fragile country in a chaotic region, the Lebanese live with a great deal of uncertainty, which makes long-term personal or economic planning very difficult. "The region is unstable, and I've been trying to get my parents here because it's safer for them," he says. He says that Parisians can now learn something from Beirutis about not letting fear overwhelm joy. "If we'd been afraid during the civil war and sat home instead of going to restaurants and cafés when we could, we wouldn't have been Lebanese. You learn to live one day at a time."

That's not to say both Parisian and Beiruti expats, coming from two highly convivial cultures that are less career-obsessed than New York is, aren't especially homesick at this perilous moment. And if the entire world is dangerous, some figure it might make sense that they go where they feel most at home. "You can find good bread here," says Takahashi, "but it's better that I don't eat that much bread here anyway." Says Polonsky: "I want to follow the Parisian way and continue to live, drink, dance, and eat, and be there to hug my relatives and continue the show."