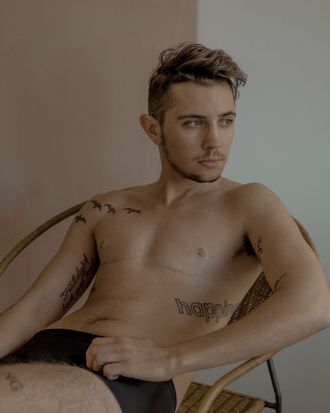 Thinx launched freakishly absorbent underwear two years ago with the tagline "Underwear for women with periods," a direct refutation of all those ads that rely on euphemisms and blue liquid. (Thinx ads were almost barred from the subway this fall after ruffling the puritanical feathers of the MTA's advertising sales partner.) But women aren't the only ones who get their periods and Thinx heard from many disappointed transgender men.
A year after later, Thinx sent out an email to "people with periods."
We wear our tagline, 'For Women with Periods,' with great honour. We are proud feminists, and our mission, as a company, is to empower girls and women around the world.
The company acknowledged, "menstruation is not a trait of, nor a defining factor of, a specific gender," posted a pretty extensive glossary of gender terms to its blog, and encouraged readers to educate themselves.
"I've been working on a self-portrait series called 'Mine' to put out positive view of transgender men" model and artist Sawyer Devuyst told the Cut. "Thinx saw it and got in touch." They invited Devuyst to consult on a pair of period underwear specifically for trans men and genderqueer consumers. "I went into their office and did a training session with their staff, offering them advice on everything from fit to how to be a better ally," he said.
Between coming out at 23 and beginning hormone therapy at 28, Devuyst spent years presenting as a guy, but secretly dealing with periods. He'd wear multiple pairs of underwear beneath boxers so as to avoid leaking. For many trans men, menstruating is often more than a monthly inconvenience, a subject Devuyst discussed in the newly released collaborative video. "It's definitely a safety risk if you're in the men's room and somebody hears you rustling a paper in the stall because you're changing a tampon," he said.
While Chrysalis Lingerie offers pieces specifically designed for transgender women and All Is Fair is working to bring comfortable binders and modification garments to the market, period underwear for trans men is new. Thinx's model has the same patented, absorption technology of earlier iterations but in a simple, frill-free cut. As CEO and co-founder Miki Agrawal explained to Mashable, "If our goal is to break this taboo and eliminate the shame associate with periods globally, we've got to do that for everyone."