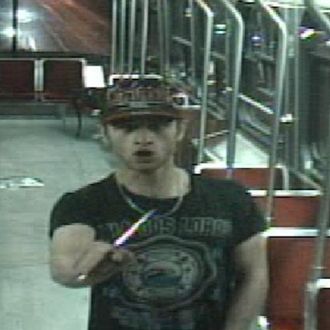 As Science of Us has covered previously, one major ongoing issue in law enforcement is the question of how to handle situations in which an individual appears agitated and potentially dangerous, but hasn't yet done anything violent. All too frequently, these situations — which tend to involve people with some form of mental illness — end in tragedy, with the police killing someone they may not have needed to. A criminal case unfolding in Toronto offers some important insights into this problem.
As the Toronto Star reported earlier this week, 18-year-old Sammy Yatim was shot dead by Constable James Forcillo on an empty streetcar in July of 2013. During the 50-second standoff, Yatim refused to put down a knife he was brandishing; eventually, Forcillo told him to not take another step forward or he would open fire, but Yatim ignored the command and Forcillo fired nine shots, killing Yatim. The officers is now on trial for second-degree murder and attempted murder.
The Star article includes some really interesting coverage of one expert's testimony:
On Wednesday, Robert Warshaw, a U.S.-based former police chief, testified that Forcillo had many alternatives to using lethal force at the time he fired the first three shots.

"Officer Forcillo took a position facing Mr. Yatim and, in my judgment, made no effort to have any interaction with Mr. Yatim for the purposes of creating a dialogue, for the purposes of learning anything that was on this young man's mind," said Warshaw, who has been appointed by the federal government to reform several American police departments with problems in excessive use of force.

"All of those opportunities to de-escalate the situation just never materialized. There was no effort."

This despite Toronto police training on use-of-force, de-escalation and interacting with people in crisis being applauded by Warshaw as "progressive, thoughtful and consistent with modern police agencies in the United States," the trial heard.

In particular, Warshaw criticized the brief time that elapsed between the arrival of police on scene and Forcillo shooting Yatim.

"There was no single asset to Officer Forcillo that was more valuable than time," he said. Yatim was already contained on the streetcar and posed no risk to others, and neither said nor did anything to suggest he would imminently attack, Warshaw said.
This last part is key and gets at some of the tension between what cops should do and what they're trained to do. Crisis de-escalation training or no, a key aspect of the broader training police officers undergo is to quickly and assertively take control of the situation. In this case and others, it's clear they don't always know how to react to situations in which the target of their commands is ignoring those commands, often because they're in the midst of some sort of crisis.
To the extent one-size-fits-all training messages can cover the impossibly complex variety of scenarios police will encounter on the job, slow down seems to be one of the most important ideas. In some cases, you don't need to immediately assert control of the situation, and it's better not to. According to Warshaw's testimony, if Forcillo and his colleagues had taken their time and tried to understand why Yatim was acting the way he was, there's a chance tragedy could have been averted.