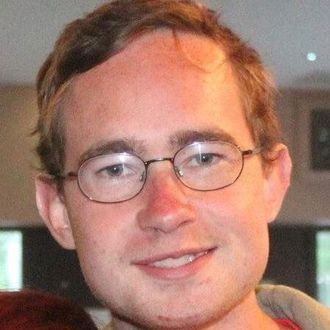 Richard Brittain.
Photo: Richard Brittain/Twitter
A British man used social media to stalk a teen in Scotland, then traveled 500 miles to the grocery store where she worked and smashed her over the head with a wine bottle, all because she gave his self-published book a bad review. Ummm … WHAT?
Last year, 18-year-old Paige Rolland wrote a blistering review of The World Rose, a story uploaded to the self-publishing website Wattpad by Richard Brittain, on the website Goodreads. Brittain, who had previously appeared on the British game show Countdown, was so incensed by her critique that he tracked Rolland down at an ASDA grocery store in Scotland where she was stocking groceries, sneaked up behind her, and hit her over the head with a wine bottle. Rolland was rushed to the hospital and required several stitches to close the gaping wound.
"I have bad anxiety and I feel nervous if I see anyone who reminds me of him," Rolland told The Mirror. "I've just started university and I'm nervous putting my opinions across. I find it weird and creepy he tracked me down and travelled to Scotland to assault me. But then his book was about a woman he was stalking for years. The fact that he assaulted me and didn't say a word is horrifying."
In September 2014, a month before the wine-bottle attack, Brittain published a post to his blog called "The Benevolent Stalker," where he admitted that the female protagonist in The World Rose was based on a woman he himself had stalked. According to the BBC, Brittain admitted to "engaging in a course of conduct which caused [23-year-old Elle] Durant fear or alarm by repeatedly pursuing her, approaching her, following her and publishing a story about stalking her."
In the post, Brittain wrote, "Benevolent stalking is different to malevolent stalking. The latter is intended to cause harm or induce fear, but the former is purely an expression of affection." Later, he added an update saying that he now realizes that "no means no."
Brittain's bail has been refused and his sentencing has been postponed until a later date.
Here's Brittain talking about what it was like to be a champion on Countdown: