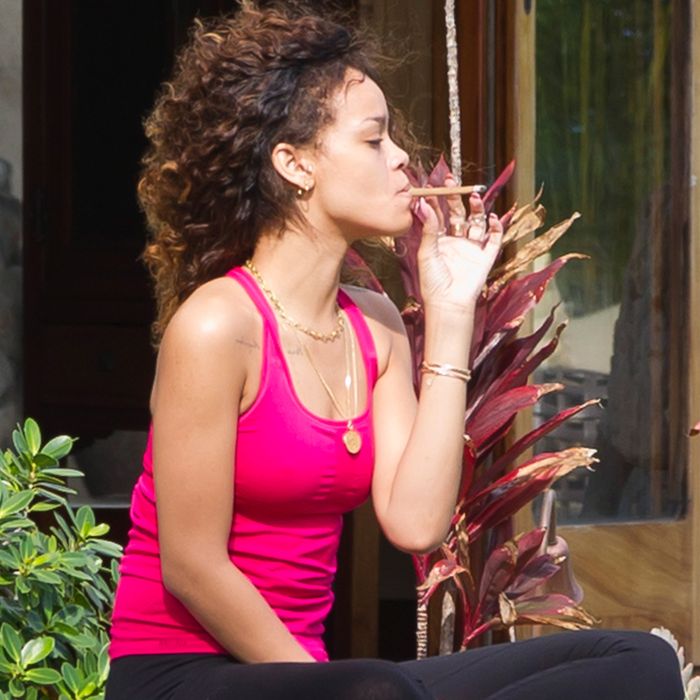 Rihanna, CEO of MaRihanna by Rihanna
Photo: starsurf/Splash News/www.splashnews.com
Rihanna has so many side hustles. She's the creative director of Puma. She's selling socks.  She's launching a beauty agency, making dreams come true, wearing sweet space outfits in a Luc Besson sci-fi film — but none of these extra jobs was quite her true calling, you know?
She has finally found the side project she was born to have. Reportedly, while attending the High Times Cannabis Cup in Jamaica last weekend, Rihanna announced her own line of cannabis products — a similar business venture to those launched by Snoop Dogg and Willie Nelson, except better, because she's Rihanna.
Because she's perfect, the line is called MaRihanna, and offers three strains: Karribean Kush, Haitian Haze, and Jamaican High Grade. It will be sold in the legal markets of Colorado, Washington, Oregon, and Alaska, says dubious-sounding site celebstoner.com. (I want to believe this news so badly; I'm willing to accept it if you are.)
The Cut has reached out to Rihanna's team, with fingers crossed, to confirm whether this dream is actually a reality.
Update:Rihanna's publicist responded to our e-mail inquiry. Sadly, this story is completely untrue. Looks like we'll just have to settle for smoking Leafs by Snoop.