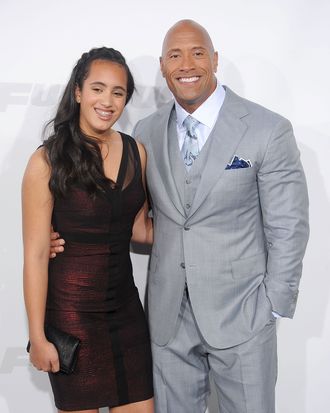 D'awwww.
Photo: Gregg DeGuire/Getty Images
If the onset of the coming week hasn't already inspired you to tears at least once this morning, don't think that you're free from waterworks yet. In a video for Oprah's Master Class that aired on Sunday, Dwayne "the Rock" Johnson — he of the beatific smile and broad shoulders and the heart that just won't quit — got the chance to talk about the love he has for his long-term girlfriend, Lauren Hashian, and his 14-year-old daughter, Simone Johnson. The Rock is more perfect than any of us can ever aspire to be in 50 lifetimes.
"I realized being a father is the greatest job I have ever had, the greatest job I will ever have," he says. "I realized the most important thing I could do with my daughter is lead our life with love." The video ends with Johnson smiling through the tears: "You know, I couldn't ask for anything else. I love that girl."
I'm crying again. You?