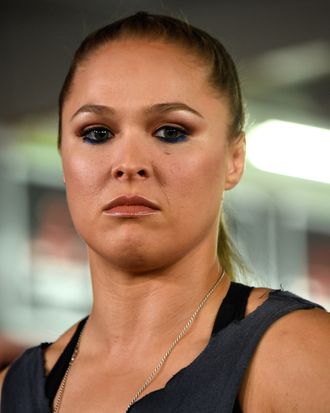 Ronda Rousey.
Photo: Frazer Harrison/2015 Getty Images
It's been a busy year for Ronda Rousey. The reigning women's bantamweight champion has landed movie roles and magazine covers; trademarked her favorite insult; and offered stinging political commentary. She's done even better in the ring — Rousey knocked out her previous two opponents in 34, and 14 seconds, respectively.
Until Sunday afternoon, Rousey was the World's Most Dangerous Woman. In a huge upset, Holly "the Preacher's Daughter" Holm broke "Rowdy" Rousey's undefeated 12-0 record 59 seconds into the second round*. With a kick to the face at Sunday's Ultimate Fighting Championship (UFC) event in Melbourne, Holm knocked Rousey out.
Though Holm came to the fight with her own undefeated record, Rousey was heavily favored to win. "This is a fight. This is what happens," the seemingly stunned UFC president Dana White said after the match. "All the greats eventually go down one day," he added*. But for a star who'd been writing "Retire Undefeated" on her hand wraps post-workout, the loss is bigger than just a match.
Rousey was taken to the hospital and held overnight for observation. "The girl needs rest," Rousey's despondent trainer Edmond Tarverdyan told ESPN from the waiting room. "The things she has done — no one can come close to them," Tarverdyan said. "She'll come back stronger."
*This post has been corrected to reflect that Holm knocked Rousey out 59 seconds into the second round, not 59 seconds into the fight.
*An earlier version of this post incorrectly used the pronoun "she" for Dana White. We regret the error.