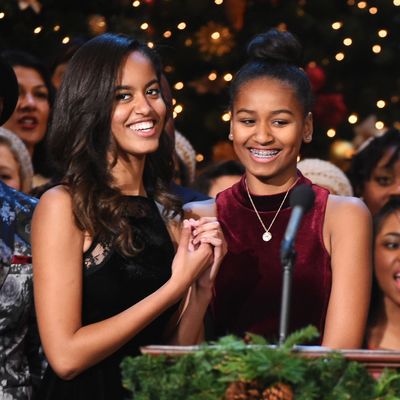 Stay away, boys
Photo: Theo Wargo/Getty Images
If you thought your dad making your long-term boyfriend sleep in the guest room well into your late 20s was bad, consider what would have happened had he had access to a federal law-enforcement agency when you were a teenager.
In a new interview with GQ, Dad-in-Chief Barack Obama lamented not getting to spend as much time with his daughters Sasha and Malia now that they're teenagers, but admitted that he's not afraid to employ his unique resources when it comes to keeping gross dudes at bay.
Though no guy has been brave enough to risk coming to the White House to pick Malia up for a date, the President said he's caught some wannabe suitors giving her the up-and-down. "I've seen some folks glancing at her in ways that made me not happy," he admitted. And when that happens, "Just keep an eye on him," he says he tells the Secret Service.
We eagerly await Malia reenacting the plot from My Date With the President's Daughter.