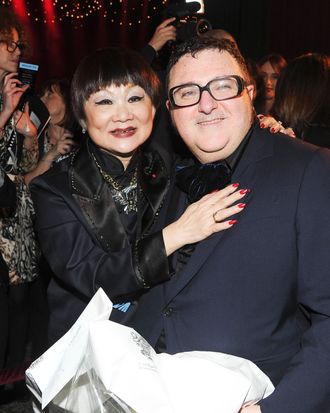 Shaw-Lan Wang and Alber Elbaz in happier times.
Photo: Joe Schildhorn.com/BFA
Unlike fellow fashion moguls Bernard Arnault, Francois-Henri Pinault, and Renzo Rosso, the woman who owns a majority stake in Lanvin has a quiet public profile. But in the past two weeks, Shaw-Lan Wang has gotten far more column inches. First, Alber Elbaz stated that he was pushed out of the company after 14 years on "the decision of the company's majority shareholder." Then, his employees announced on French radio that they would lobby Wang to reinstate the designer. The latest? Today, Women's Wear Daily reports the employee works council is asking Wang to come to Paris to listen to their concerns, which include the quickening employee turnover at the brand. (Wang is based in Taiwan.) Even ex-French culture minister (and now head of the Institut du Monde Arabe) Jack Lang has gotten into the mix, calling Elbaz "one of our national treasures" and calling for his reinstatement. "To cut the wings of this exceptional talent in this way makes me very sad and angry," he told the paper.
Wang, who is 73, has done very little press, though, ironically, she has spent most of her life in the world of journalism. She studied the subject at Shih Hsin University in Taipei and currently owns the United Daily News, the Taiwanese paper her father founded in 1951 (as a young woman, she worked there as a reporter). She bought the majority stake in the house of Lanvin from L'Orèal in 2001 and brought on Elbaz, who had recently been fired from Yves Saint Laurent and called her to make his case for the job.  Still, speaking to the Financial Times' "Lunch with the FT" column a couple of years ago, Wang said she does not think of herself as a businesswoman. And while she attends Lanvin shows, she has studiously avoided fashion events. "I don't like those kind of people or those kind of parties," she told the column. "I am not a jet-set person."
Despite her disinterest in the scenier side of fashion, Wang definitely has a signature style: She's known for favoring traditional Chinese qipao over the latest runway fashions, and has been known to accessorize with statement jewelry and dramatic eye makeup. For the brand's retrospective show at the Palais Galleria, she piled on strands of pearls, and she frequently wears bold brooches. In pictures over the years, she and Elbaz look chummy, whether they're snuggling behind a fan or embracing one another front row. He respectfully called her Madame Wang and repeatedly spoke about how grateful he was to her for giving him another shot in fashion. In 2005, he told the New York Times, "She took a chance on me when others wouldn't. The fashion world is fickle, which doesn't mean I have to be." It's unclear what may have led to the souring of their partnership, but one possibility is good, old commerce: Among the works council's stated concerns is the forecast that the brand may post a loss for the first time since 2007. In a speech immediately before his exit, Elbaz alluded to the increased pressure to hit the numbers. And rumors that Wang was looking to sell the company circulated back in March. (Elbaz still owns a stake in the company, for the moment.)
Whoever ends up succeeding Elbaz has his or her work cut out for them. But it sounds like the house, at least, isn't going anywhere. As a spokesperson told the paper, "Lanvin has been in existence for 125 years. It must go on. We are not going to close the house because our creative director is gone. The teams are hard at work. They continue to work, even if it is an emotional time."