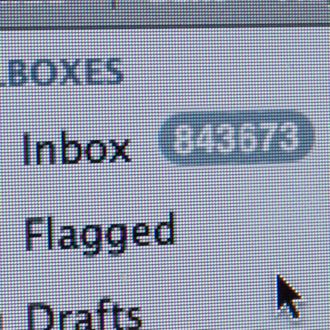 Last week, Italian home-textiles company Gabel announced it was going to conduct business the old-fashioned way: no internal email for one week. The BBC reports that the company hired an expert to interview its employees about what stressed them out about work, and one of the top complaints was (perhaps unsurprisingly) the daily barrage of emails. So Gabel's managing director, Emilio Colombo, sent an email (yes, how ironic) declaring the rest of the week an email-free one. 
"Together we will begin the following experiment, which will take us back in time to when people talked more," Colombo wrote. "We invite you not to use email for internal communications (between colleagues at the same location), in favour of a more direct and immediate contact."
While it might seem counterproductive to a company's bottom line to abolish email, Gabel might be on to something here. Email has been credited as a root cause of stress among a new generation of always-on-the-clock workers whose phones are constantly pinging from office messages. During a single workday, researchers have found that, on average, employees are checking email 77 times a day (and on the higher end are the employees checking their in-box 373 times a day). And yet, as Science of Us pointed out just last year, just because you're on high email alert doesn't necessarily make you more productive; it can, in fact, have the opposite effect. 
And, of course, the email doesn't stop once you've left the office. During off-hours, even the mere expectation of email has been shown to be a nail-biting, anxiety-ridden stress inducer. In a study published in the Journal of Occupational Health Psychology in August, psychologists from the University of Hamburg found that just knowing there was the possibility of a work email coming in during off-work hours could lead to a significant increase in stress. 
In contrast, consider the findings of a 2012 study from the University of California–Irvine, which showed the power of a short-term break from email, like the one employees at Gabel just took. Not only does being cut off from your in-box for five days lead to more "natural" heart rates, but employees in that study reported being more engaged and productive. At Gabel, company president Michele Moltrasio told the BBC that while the experiment wasn't easy, employees spent their email-free week "rediscovering the pleasure of meeting and talking rather than writing." Talking to your co-workers! Imagine that.