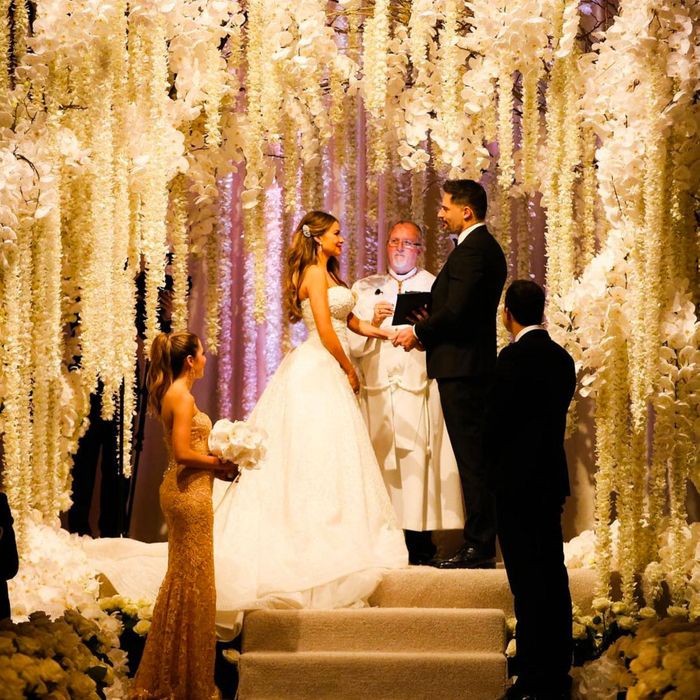 Mazel tov
Photo: Sofia Vergara/Instagram
Delightful actress Sofia Vergara married her too-handsome-to-be-real Ken doll Joe Mangianello on Sunday in a ceremony that was like a traditional wedding pumped with tons of cash and steroids. It had a poolside prenuptial reception, a performance by Pitbull, an altar of cascading flowers, a photo booth, a goofy hashtag (#Jofia), cast members from Modern Family, a serenade of "Sweet Child O' Mine" by the groom-to-be to his beloved Sofia, and five different wedding dresses. You thought this eerily beautiful couple was going to stick with just one boring dress? Give me a break. What fun is that?
The first "dress" the bride wore was a white blazer and tank on the Friday before the wedding when meeting with celebrity florist Jeff Leatham. A casual look with a callout for what was to come.
The second "dress" was a lace bikini coverup for a poolside reception. Playful and also impractical.
The third was a cocktail dress to match the couple's cocktail napkins, ones that read "He had me at hola." We're slowly getting more formal as the weekend continues.
Then, blammo: the bride's wedding gown, a strapless Zuhair Murad Couture gown with a neverending train. Vergara did not look real.
The night ended with Vergara sashaying in a glittery cocktail length dress again, before retreating to her chambers with a stripper from Magic Mike.
Some women get to have all the fun.