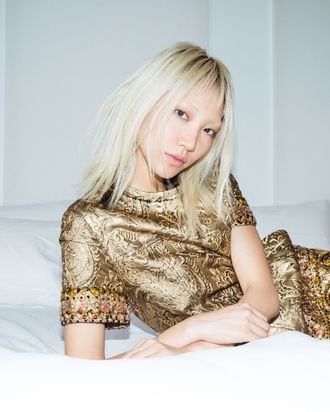 Soo Joo Park.
Photo: L'Oreal
The past year has been a big one for Soo Joo Park. The "addicted-to-platinum" model became the new global spokesperson for L'Oréal Paris and is also the face of Redken, making her the first Asian-American to front two large beauty brands. While in Paris for Fashion Week, the Cut talked to her about the milestone, her favorite Korean beauty products, and her favorite hair vitamins.
Congrats on your successes this year.
I'm very, very happy about it. It's great because Asian-Americans are different from Asians in some ways because we grew up with a melting pot of culture. I feel quite special to represent a different thing than just Asians or just [the West].
How do you typically start your mornings?
I usually wake up and look at the phone and then figure out what I want to wear and take a shower. I'm always running late so I'm just in a really frantic hurry. I always eat breakfast, normally granola and yogurt with fruit, but if I have time, I'll make an omelette or a poached egg. The poached egg is usually for weekends, but I really like poached eggs. When I'm traveling, if there's a little kitchenette, I'll go to the grocery store and buy some groceries and stuff or I'll order room service. 

How often do you get your hair colored?
I went a little more platinum again. For a while, I tried to not bleach it too much to keep it a little stronger, but you know, I'm addicted to the platinum look. Every three or four weeks I go to Redken Exchange in midtown to my colorist Dhaniel Doud. He's the colorist that always does my hair.

How do you take care of your hair?
I wash my hair less often. Unless I have photo shoots, I wash it every two to four days. In between, I started using Redken's Pillow Proof dry shampoo. Actually, I have it in my bag. It gives it a little more texture, so it's better than washing it. I also use a silk pillowcase. I just buy one every six months and replace it. You need to get one. It changed everything.

Other than your passport, what do you usually travel with? 
I always have my iPhone charger, and I always carry a travel size of the Extreme hair-care line because I tend to stay in a lot of hotels. I take the Extreme Strengthening Shampoo plus the Conditioner. I put it in a little travel-size Ziploc bag, and I just carry that with me.
For my skin, I use the L'Oréal Age Cell Renewal because it's supposed to help with puffiness and redness. When you're traveling and flying so much, you tend to get a little puffy. If you've ever seen one of those little water bottles that they give you, when you're descending, it just closes up. Have you ever seen that?

No! I've never seen that.
If you drink half of a bottle, close it, and leave it there during your flight, upon descending to a lower altitude you'll see that the bottle has shrunk. You can imagine a similar thing happening to your skin.  But back on how I take care of my hair, I take Viviscal and biotin. Because my hair is so stripped of all the nutrients, the vitamins build protein. And I also use this little vial (Redken Monoxidil Topical Solution) that you apply on your scalp; it's like Rogaine, but it's for women. Just whatever I can get my hands on.

How do you work out when you're traveling?
To be honest, I don't. Lately, I've fallen out of an exercise routine, and it's really hard to get back on it. But I'm meditating. I have this audio file of breathing techniques. It's called Prosperity Meditation. It's breathing exercises to clear your mind and bring in positive energy. Sometimes it's more important to work out your mind than your body.

One of my really good friends, Stacy, introduced it to me. I stay with her sometimes when I'm in Paris. She's an expat. Whenever I'm here, it's usually during Fashion Week, and I'm very stressed or frazzled. She was like, This will really help you calm down and be in a better state of mind, so we started doing it together.

What about when you're not traveling?
I've fallen out of a routine, but I was doing a little bit of kickboxing and Pilates. I was in Korea in August, and they have this thing called EMS — it's a machine that sends electric signals, and it shocks your muscles. The machine is wired to you while you're wearing a wetsuit. It's wet because then it transfers all the electricity better, and you do very simple motions, like squats. I really recommend it because you sweat so much, and the exercise is usually only 20 minutes long, but it's supposed to be three times as effective. It's like working out for an hour, but you can do it in 20 minutes.

Are you into any Korean beauty products?
I love Korean beauty products, because most of the time they're quite affordable. They play around with the ingredients. There's this brand called Belif and they have this thing called Time Bomb. It's amazing — it's the most hydrating, moisturizing thing ever. Charlotte of Soko Glam is a friend of mine, and she's always sending me little packages of things.
There's also this oil makeup remover called the Banila Co Clean It Zero balm. I use that whenever I have the heavy-duty makeup. It takes off all the eye [makeup] and stuff. Then I use KohGenDo's Cleansing Spa Water. I use that instead of Bioderma because I think it's a lot more soothing. My skin is really sensitive, so if I use Bioderma, even the one with the green bottle-cap for the sensitive skin, it feels really dry, and then I'll start itching.
This interview has been condensed and edited.