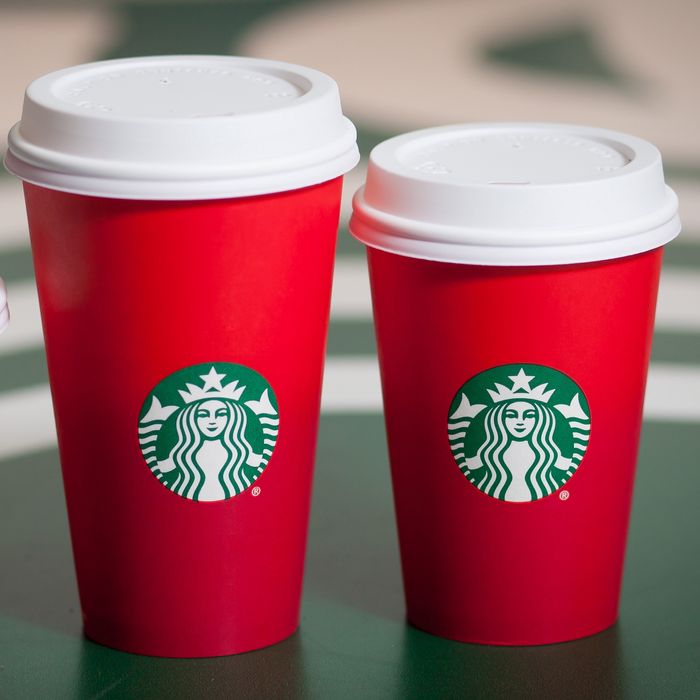 Is this war?
Photo: Courtesy of Starbucks
You might think of Starbucks's holiday "red cups" as beloved winter accessories for snuggly holiday revelers, but according to "social media personality" from the great state of Arizona Joshua Feuerstein, Starbucks's decision to rid the red cups of reindeer, Christmas baubles, and other holiday signifiers is just one more sign that America is going down the sewer. Not even Taylor Swift fans can have the nice things they're entitled to anymore.
"In the age of political correctness, we've become so open-minded that our brains have literally fallen out of our head," Feuerstein says in a video posted to his Facebook last week. He goes on to tell his nearly 2 million Facebook fans that he entered his local Starbucks, told the barista that his name was "Merry Christmas," and didn't hesitate to do so while wearing a shirt imprinted with Jesus' likeness and while carrying his gun. For that is the freedom of living in America.
Feuerstein would like to start a "movement" against Starbucks by getting his followers to tweet #MerryChristmasStarbucks after acquiring their sweet coffee drinks under the name "Merry Christmas." But Starbucks predictably is unfazed by their alleged heresy. A spokesperson for the company said in a statement to Today, "In response to the video, our core values as a company is to create a culture of belonging, inclusion and diversity. Each year during the holidays we aim to bring our customers an experience that inspires the spirit of the season and we will continue to embrace and welcome customers from all backgrounds and religions in our stores around the world."
If we can't have our Starbucks Christmas cups, what is left?