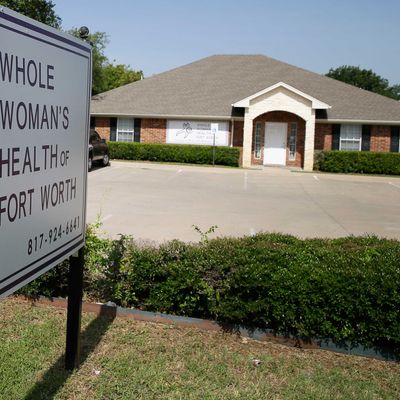 Texas
Photo: AP Photo/LM Otero
On Friday, the Supreme Court announced that they will hear a challenge to a Texas abortion law that was signed into law by Rick Perry when he was governor of the state in 2013. This would be the first time since 2007 that the Supreme Court has heard a major abortion case.
Abortion providers challenged two parts of the law: one that "requires all clinics in the state to meet the standards for 'ambulatory surgical centers,' including regulations concerning buildings, equipment and staffing" and a second that requires "doctors performing abortions to have admitting privileges at a nearby hospital." According to the Times, the law has already caused over 41 abortion clinics in the state to close and could force more to do the same, leaving only 10 remaining clinics in all of Texas.
Many conservative lawmakers have come out against the court's decision to hear the challenge. Ken Paxton, Texas's attorney general, said the Supreme Court shouldn't see themselves as "the country's ex officio medical board with powers to approve or disapprove medical and operative practices and standards throughout the United States."
The decision in the Supreme Court could affect the reproductive rights of millions of women.