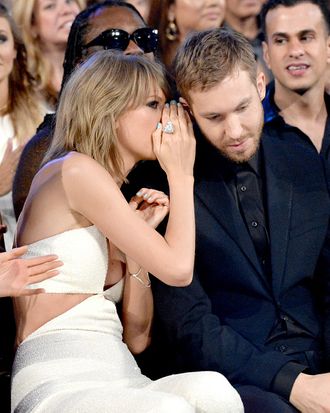 Photo: Jeff Kravitz/Jeff Kravitz/BMA2015
Earlier this fall, rumors began to circulate that Taylor Swift and Calvin Harris had broken up over his alleged visit to a Thai massage parlor. Even though she favorited his tweet on the subject, they weren't spotted together for quite some time and things seemed to have cooled between the two.
But then, on Tuesday, Taylor Swift and Calvin Harris dined together. It was a double date with model Rosie Huntington and her 40-something boyfriend. Swift and Harris left through separate exits.
To let us know she knows we know, Tay Tay took to Instagram, subtly giving him photo credit on a cat pic.