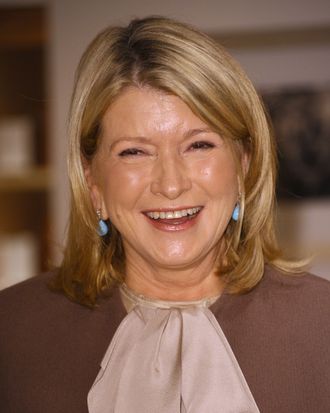 Martha Stewart.
Photo: Jason LaVeris
In what she calls the "Brown Room" of her massive farmhouse, Martha Stewart's Thanksgiving table was decorated with a plethora of semi-shucked corncobs and a smattering of gourds. Wine was poured, candles were lit … and Terry Richardson pulled up one of the upholstered chairs to his spot at the table. For the second year in a row, Martha Stewart spent Thanksgiving with the controversial photographer.
While there, Richardson pulled out his new book and had Stewart pose with it.
Last year, Stewart got into hot water after posting a photo of her and Richardson enjoying Thanksgiving together to Instagram. She then deleted all traces of him from her Thanksgiving 'grams. This year, she's only shared her tablescape on Instagram, photographing it without any guests.
Also in attendance was photographer Douglas Friedman, dozens of decorative stone turkeys, and Stewart's vegan daughter Alexis.