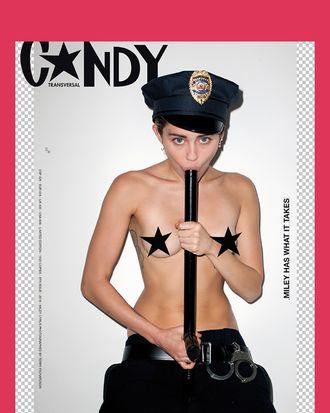 Photo: Terry Richardson for CANDY Magazine/courtesy of the editor
Controversial photographer and professional sketchy person Terry Richardson shot Miley Cyrus for the new issue of CANDY Magazine, and the photos are a subtle artistic tribute to the beauty of the female form. Haha nah, they're basically porn. Do you, Miley.
Cyrus does her thing in nine different shots, posing naked with a cat, dressed as a fireman, and spending some nice quality time with a giant strap-on. You know, just the kind of typical portraits your grandma will want to keep in her wallet to show to friends.
Though some magazines have decided to stop working with Richardson after news of his allegedly predatory behavior broke, Miley has stayed a steadfast supporter, even posing earlier this year for a risqué shoot in his studio.