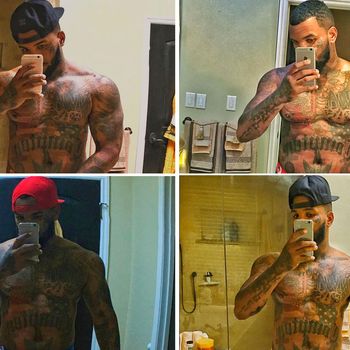 Photo: The Game/losangelesconfidential
Three weeks ago, rapper The Game posted a photo of himself shirtless and clad in snug boxer briefs to his Instagram account. It wasn't just his mastery of the visual aspects of thirst-trapping that caused The Game's photo to go viral, but a command of language that elevated the accompanying X-Rated hashtags from mere tags to potent, passionate erotic fantasies. He reinvented the #EggplantFriday genre. And then he did it again, and then again, and then one more time.
Obviously we had many questions: Why? What? How? Will there be more? (Yes.) Is that real? The Cut caught up with The Game via phone to get the whole story:

Your thirst traps came out of nowhere. Why post them now?
Instagram is Instagram. You post photos. Mostly people post photos of themselves. When you're an artist, sometimes it's promotion, sometimes it's just yourself. Sometimes when you get out of the gym and you're feeling yourself. And you just want to give the ladies a little sneak peek of the progress.
Are you doing this a lot? How did you master your angles?
I think I'm just blessed from every angle. I take one picture and there you go. Bam.
I've read the comments. Were you surprised by all of the attention?
I feel like I got the most comments on a picture ever on Instagram history. I had like 250,000 comments. I don't think anybody — Kim Kardashian, Justin Bieber, Rihanna — ever had that many comments. I had a bunch of likes, too. It was cool.
How did all that attention make you feel?
I've been this handsome since 1979. It's just another day in the life of Jayceon Terrell Taylor, I guess.
So humble.
Well, you only live once; you gotta have your confidence through the roof.
And what were the responses from men? Were they jealous?
I didn't really pay attention to what men were saying.  I'm posting for women. If men want to stop and look at my meat print —
I'm sorry, did you just call it a "meat print"?
Yeah, that's what they call me, Meat Print Papi. Nice to meet you. [Laughs]  It's on every picture.
Speaking of the photo captions, did you compose all of those hashtags yourself? Is that all your handiwork?
Yeah, I don't have an assistant or a hashtag writer. It's me.
Where do you get your inspiration? Is there a specific woman? An erotic book?
I think just sex as a whole. Being an adult, and loving to have sex. And I got a creative mind, obviously — I get paid to write. Also women. There are a lot of women out there. Some are not having sex as much as they'd like to. So for those women who are practicing abstinence or in between relationships or are alone, I like to give them a little something to warm their evening.
That's very thoughtful of you.
Thank you, thank you. Blessing women throughout the world.
Can you just quickly give me an example of something you might write on the next one?
Usually I'm going to start off with: "Maybe you're on your way home from work. And if you're on your way home from work then you might want to open the windows a bit, then spread your legs." [Ed Note: The rest was entirely too explicit to type here.]
I don't want you to cream on yourself on the phone, so I'm going to relax. You're welcome.
Ahem. Thank you. So, um, I hear you're now working with Ethika, [the brand of underwear you wear in the photos,] after their boxer briefs played such a prominent part in your Instagrams?
Yeah. I had a meeting with Ethika and we have some underwear in the works for the Holidays. Women's too!
Does the underwear have anything to do with how … you look in the photos? Are those compression shorts?
Compression shorts? It might be a bit of compression. It might be a little bit of me, a little bit of god. A little bit of meat. You mix that and you got a deadly concoction.
Any tips for men who want to take photos like yours?
If you're trying to be me and you're not as blessed, just stick an aerosol can of deodorant in there and give it your best shot.