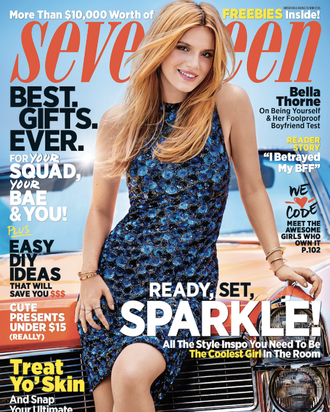 Photo: Seventeen Magazine
Being a teenager is tough work, but dealing with bad friends makes it even harder. Actress Bella Thorne has learned this the hard way in her 18 short years. This spring, she searched high and low for a friend who'd ditched her at Coachella. By summer, she'd found two new friends, and who cares if one was an inflatable bird? Things were looking up.
Unfortunately, she's been dealing with an unnamed Hollywood mean girl this whole time. "She's in the business, and she's very, very mean. I stay away from her at all costs. I never say hello to her," Thorne dished in her Seventeen cover story.
Thorne wouldn't name the big meanie, but she did offer two clues.
Her siblings are not mean like she is. It's just her. One of the reasons I don't like her is because she's been a billionaire since she was very little, and she's never had to work for anything in her life.
Now, who on earth could that be?