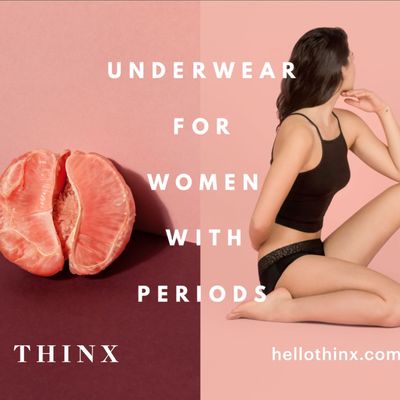 Thinx's "Underwear for Women With Periods" campaign.
Menstrual underwear brand Thinx's ads finally went up in the Bedford Avenue L stop on Monday after the company won its tussle with subway advertising gatekeeper Outfront Media. But now Thinx is facing a new roadblock: The company that controls ads in taxis thinks its campaign is too risqué.
The brand submitted a 15-second commercial intended for taxi video screens on November 5 to Vistar Media, a company that offers geotargeting and data tracking. Matthew Michaelson, a digital strategist at Thinx, told the Cut his team wasn't given specific guidelines for what's considered acceptable. Vistar told him it fully supported Thinx's ads but its advertising partners had final say on approval, and one partner was not having it.
In an email exchange obtained by the Cut, a sales representative at Vistar told Michaelson that Creative Mobile Technologies (CMT), a company that controls video screens in taxis, had rejected the ad, which features the same grapefruit and egg imagery that was approved by Outfront Media, then the MTA for subways. He was told: "Unfortunately CMT has decided that the creatives could be offensive to riders."
Michaelson and Thinx CEO Miki Agrawal were surprised, given that they'd just witnessed a public outcry over the subway ads controversy. "We sent Vistar links to relevant pieces of press and said, 'We'd like to give CMT a chance to approve this in light of all the press that this campaign as received,' and then we again heard no," Michaelson said.
On Wednesday, CMT told Thinx that it's fine with advertising period underwear on its taxis screens, just not that way. The email from a Vistar rep read:
"I spoke to CMT this morning. They will not be approving the current creative Thinx has supplied. They do not have a problem advertising for the brand, just the specific creative. They are happy to review any additional creatives you send over."
Agrawal says this situation is incredibly frustrating. "I cannot believe it. The nerve to actually deny those after the onslaught of negative tweets that the MTA got from thousands of women," she said. "It's absurd."
And the real-life period drama continues. We've reached out to CMT for comment and will update this post when we hear back.