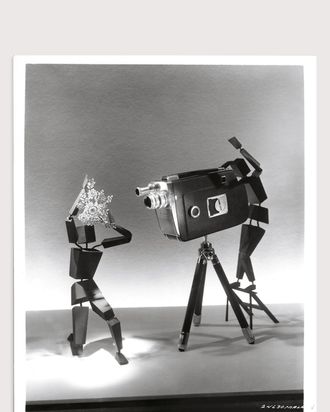 Photo: Tiffany & Co. Archives
Holly Golightly just might have to move her morning croissant-fueled stakeout a little farther downtown. Tiffany & Co will debut its 17-piece "Out of Retirement" collection (the brand doesn't discontinue items, but retires them) to Dover Street Market beginning November 12. And since both brands are known for their memorable in-store décor, it made sense to go all out on the window embellishments. Given the theme of the collection, Richard Moore, Tiffany's  head of corporate visual merchandising, looked to the work of iconic window-dresser Gene Moore (no relation) for inspiration. "It felt very fitting to use display techniques that are also out of our archives, and to marry them with these beautiful designs," which include rings, bracelets, pins, and objets, Moore told the Cut.
Gene Moore began working at Tiffany's in 1955, and designed about 5,000 windows in nearly four decades there. He incorporated work by contemporary artists, including Andy Warhol and Jasper Johns, into his work, but he's also known for creating miniature wooden figures like the one above left, which fuse the whimsical with the futuristic. You might say that he helped to pioneer the modern art of window-dressing; as his successor puts it, Moore's approach was "not just putting a product in a window, not just putting a necklace on a neck form. He created something that was much more artistic."
For Richard Moore and his team, the project began with a great deal of research. "Our archive has an incredible wealth of imagery relating to his work," he said. "It's always on our mood board, always within our psyche." They settled on his signature wooden-figure motif: "We loved the animated figures because these little people kind of bring the jewelry to life." Look for the windows to go up on the 12th; for the true Golightly experience, you can grab breakfast at Rose Bakery afterward.