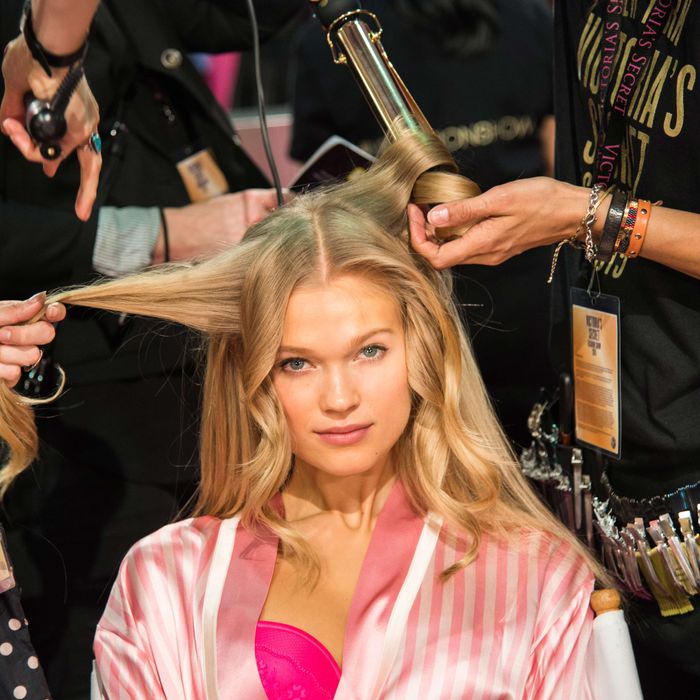 No glitter here!
Photo: Amy Harris/Corbis
It doesn't make much sense to drown yourself in makeup, only to slip into a lingerie set or a pair of pajamas, and Victoria's Secret has taken notice. Backstage yesterday before the brand's annual fashion show, the buzzwords rang to the tune of minimal, natural, and simple. Perhaps playing into the theme of this fall's New York Fashion Week, where designers wanted models to look like themselves, the hair and makeup crew tried to amplify the models' natural beauty, rather than turning them into glittery disco goddesses.
The makeup look, for example, relied on only a handful of products, like a small amount of foundation applied with a super-light touch, and a wash of cream blush tapped on the apples of cheeks. A member of makeup lead Dick Page's team was quick to emphasize that they were using no corrective measures — no heavy concealer, sculpting creams, or Kardashian-level contouring.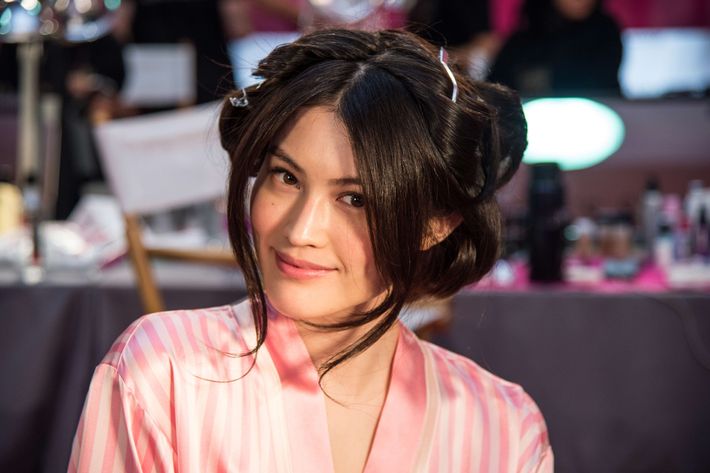 On the eyes, makeup artists carefully applied Shiseido's Shimmering Eye Cream in Sable, followed by short eyelashes from Ardell to add a bite-size amount of heft. They drew a nearly nude lipstick on each model's lips, later adding just a dab of Victoria's Secret Beauty Rush gloss on the center for the gentlest amount of sheen. Make no mistake: This is a Victoria's Secret take on "no-makeup makeup."
Hair was given a similar treatment. Each model's strands were styled around her natural part. Some extensions were applied for volume, and then twisted around the Beachwaver — a motorized curling rod — for what the tool's founder, Sarah Potempa, called "lived-in, super-sexy waves." To ensure that the waves stayed in place all day, Sarah spritzed hair spray into a paddle brush, then ran the bristles through each model's hair.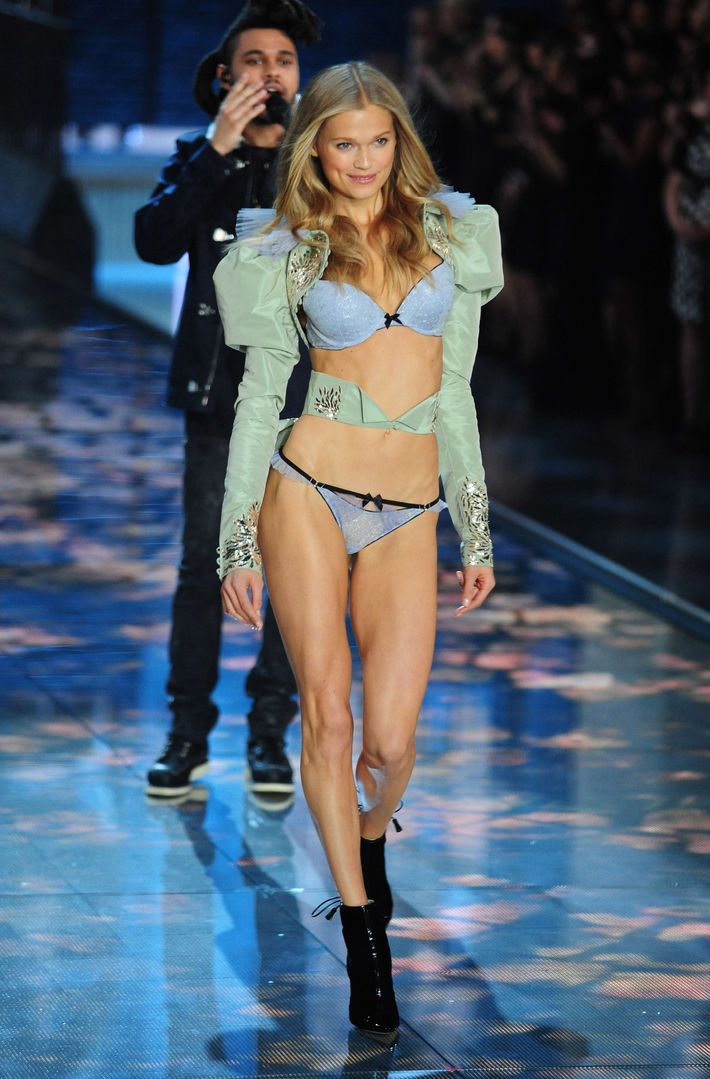 Since this is a lingerie fashion show after all, the makeup also extended to include the body. To cover tattoos and bruises, makeup artist Dani Fonseca carefully dabbed Kevyn Aucoin's Skin Enhancer and M.A.C's Face and Body liquid over key areas. A trace amount of shimmer was sprayed onto collar bones and shoulders with Temptu's air-brush system to cast off the smallest of glows, thereby faking a natural sheen.
The end result was a surprisingly pared-down runway look that could translate easily to real life. "Clean" is what Dick Page was going for, and clean is what he achieved — except for the white couches that lined the backstage dressing area. By the end of the night, those were absolutely filthy.