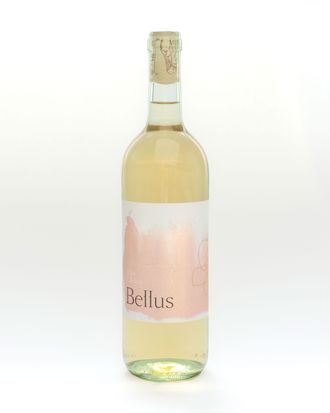 Caldera is the newest bottle from Bellus Wines, with a label designed by Cherry Bombe creative director Claudia Wu. A portion of its sales benefit the environmental nonprofit Earth Justice.
Photo: Chad Silver
A weeklong series on the art of entertaining, for women who are too busy for Pinterest.
Choosing which wine to buy for a party depends on the social setting, the price, and how much time you have for the mansplainer at the wine store. How do you impress guests or your party host without blowing your budget? The Cut asked Bellus Wines founder Jordan Salcito, beverage director at Momofuku and a Master Sommelier candidate, to give us a comprehensive shopping list with wines for every occasion. Read on for no-fail Champagne, reds, whites, and more.
When You're Going to Your Boss's House for Dinner: Montée de Tonnerre Chablis Premier Cru
$30; Chablis, Burgundy, France
"I would argue Burgundy is the greatest region in the world for wine, and it also has the most storied history, going back to the Middle Ages. This is a great way to impress your boss: Give him or her something special, versatile, delicious, and something that comes from a really important lineage. Only the top 10 percent of all the vineyards in all of Burgundy get classified and ranked as Premier Cru. Chablis is part of Burgundy but still less on people's radar. It's still a good-value wine, but it's just as special and storied as anywhere else in Burgundy."
When You Want to Impress Your Partner's Parents: Domaine du Pélican Arbois Trois Cepages
$48.99; Jura, France
"This is made by Guillaume d'Angerville, one of the great wine-makers in all of Burgundy, who decided to start a small winery not far from Burgundy in Jura and blend three red grapes — Pinot, Poulsard, and Trousseau. It's made with the skill and attention to detail of Burgundy estates that have been making wine for over three centuries, but it's new and innovative. You're basically getting the knowledge, quality, and standards of somebody who is used to selling wine for $400 or $500 a bottle."
When You're Broke But Don't Want to Drink Like It: Fuoristrada Wines Sangiovese
$12-$15 for one-liter Tetra Pak; Tuscany, Italy
"Sangiovese is the grape of Chianti. Fuoristrada Wines owner Michael Schmelzer wanted people to be able to drink high-quality wine but at a very low price point — just for comparison, the cost of the entire packaging is less than the cork of an average bottle of wine. A liter is also 25 percent more wine than you get in a normal bottle."
When You're Hosting a Fancy Dinner Party: Chartogne-Taillet Cuvée Sainte Anne Brut
$35 to $48; Champagne, France
"The family has been farming these same parcels in Champagne — organically with no herbicides or pesticides, which is really rare — for four generations. This is their entry-level bottling but made with the same integrity and quality standards as their single-vineyard wines. It's a fun wine. It's a wine with bubble, but it's a wine first and foremost. Tasting notes: Meyer lemon blossoms, green apple, green pear, lightly toasted brioche, red apple skin, and even a hint of fresh raspberry."
When Your Party Is So Fancy, It Requires an Apéritif: Catherine & Pierre Breton Vouvray Pétillant Brut "La Dilettante" Méthode Traditionnelle
$23; Vouvray, Loire Valley, France
"Again, no chemicals or pesticides, very high-integrity farming. It's from Vouvray, so by law it has to be 100 percent Chenin Blanc. It's almost like a ripe red apple that's hanging out on the tree for a while and you pick it at its absolute ripest moment, with apple blossom, lemon, some citrus blossoms."
When Your Fancy Party Takes Place During Pumpkin Spice Latte Season: Eric Bordelet Poire Authentique Cider
$14.99; Normandy, France
"Cider is an amazing value. It's also gaining in popularity quickly. Eric Bordelet was a sommelier at [Alain Passard's] L'Arpège in Paris for a number of years before he moved back to Normandy to take over his family's estate. He's the best of the best, and you can get bottles for $15, so it's another smart option to have around."
The Best White Wine for Any Party: Stein Blue Slate Riesling
$18; Mosel, Germany
"This is going to highlight whatever people are eating. I always like wines that are a great backdrop, but if you decide you want to make it a centerpiece of a conversation it can hold its own."
The Best Red Wine for Any Party: Bellus Wines "Scopello" Frappato
$21; Sicily, Italy
"The Frappato grape used to be reserved only for the Sicilian royalty, and it's basically Sicilian Pinot Noir. It's elegant, bright, pretty, versatile. It's such a crowd-pleasing wine, and most people have never heard of it. We donate a percentage of proceeds to an NGO called NomoGaia [run by her sister Kendyl Salcito] that pushes multinational corporations to respect human rights."
When You're Looking for a Life Hack: Buy a whole case.
"You get a 10 to 15 percent discount just by buying the full case. It's something that you can just have and then grab a bottle of when you're running to dinner or a party, but you also have a few bottles on hand when you're hosting something as well. Once you've found a bottle or a few bottles that you like, investing in a case actually saves money and time in the long run because you've done that hard part upfront."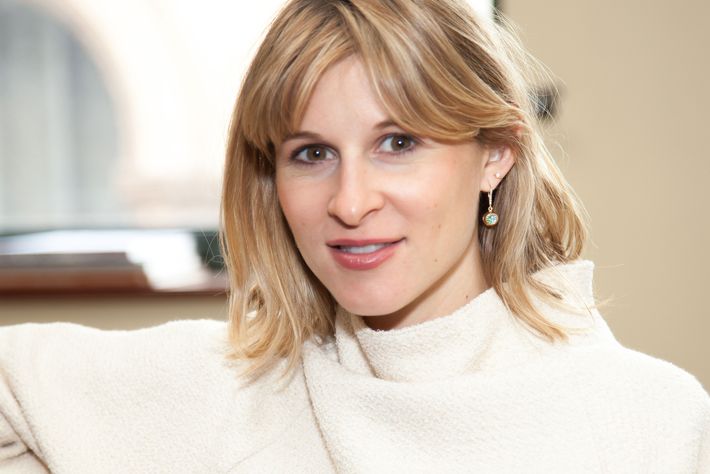 BONUS: How to manage your relationship with the wine store.
Salcito recommends befriending wine-store owners, even if they talk your ear off. The trick is to cultivate the friendship during the social off-season. "Use the slower parts of the year to start cultivating relationships with your favorite stores, because there are a ton of resources available. Everyone's in the store the day before Thanksgiving or before Christmas. You're fighting for attention and then you're waiting in line. You're already ahead of the game if you can shoot a text or an email to somebody who works at your favorite wine store and be like, 'Hey, I'm going to be there in 20 minutes, I need something that fits this profile. Can you set it aside for me?'"
It's a good idea to keep track of the wines you like in a notebook or journal. Salcito also likes an app called Delectable that lets you take photos of the labels of wines and rank them.
And if you're trapped by your liquor store's resident mansplainer, well, "it depends on who the mansplainer is and what you need out of that interaction," says Salcito. If the person works at the store and you're building a relationship, "See what he has to say. It's always good to be as open-minded as possible when it comes to buying wine because there are always good secrets." But if he's trying to pick you up and clearly knows less than you do: "Say, 'I actually have a good idea of what I'm looking for, but thanks so much for your insight.' And then pretend to make a phone call."
*Prices sourced from wine-searcher.com and wine.com.