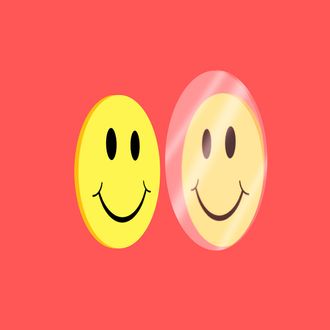 Practicing self-help techniques in a way that's, erm, helpful isn't as straightforward as you might think. For example, there's research showing that the classic approach of uttering positive mantras like "I'm a lovable person" can actually backfire — people who say such things but don't believe them may end up feeling worse afterward (perhaps because doing so prompts them to immediately conjure reasons why they aren't lovable).
A more promising approach is to engage in "self-affirmation" exercises, such as writing about the things you value, like your family or your career (a method like this is less dependent on an individual's self-esteem). A solid body of research has built up showing that doing this can bolster people's feelings of self-worth and make them respond more constructively to threats.
Now a new brain-imaging study published recently in Social Cognitive and Affective Neuroscience has lifted the lid on what's happening in the brain when people practice self-affirmation, helping to explain the technique's apparent effectiveness — and hinting at a simple way to enhance the technique.
Although there's a lot of objective evidence showing the benefits of engaging in self-affirmation, most of its effects seem to go on subconsciously, making it difficult for people to reflect on and talk about why it's helpful. For University of Pennsylvania psychologist Christopher Cascio and his colleagues, this made the technique a perfect target for study with brain imaging — perhaps, they reasoned, the brain-activity patterns displayed by people undergoing self-affirmation could provide support for the current, tentative explanations for how the technique works.
There are three main psychological explanations for why self-affirmation is beneficial: First, it's simply enjoyable to dwell on what we value; second, when we're feeling threatened by a particular criticism or failure, the technique reminds us of those things we value about ourselves more broadly, that are separate from the threatened aspect; third, by broadening the basis of our self-worth, it can help us regulate our emotions.
The researchers started by asking their 67 participants, 41 of them women, to list the following eight areas of life in order of how much value they placed on them: creativity, relations with family and friends, humor, independence, business or earning money, politics, religious values, and spontaneity or living life in the moment.
Later, as the participants lay in a brain scanner, the researchers asked half of them to think about their top-rated value. For example, someone who chose family and friends as their most important value would be given a prompt like "Think about a time in the past when you had fun with family and friends." Earlier the participants had had practice at this process and had been given extra guidance like "Try and visualize yourself in the experience and remember as many specific details as possible." (Other prompts given during the actual brain scan were to think about scenarios in the future — an important detail we'll come back to.) Effectively, this was self-affirmation being performed in a brain scanner. The other participants acted as controls, and they were prompted to think about past and future scenarios involving the item that they'd ranked as least important to them.
The researchers looked for and found neural evidence to back up the first two of the hypotheses for why self-affirmation works — the notion that it's beneficial because it's rewarding and pleasurable, and that it works because it acts as a defense mechanism by reminding us of the things in life that we cherish, thereby broadening the foundation of our self-worth. Specifically, participants in the self-affirmation condition exhibited greater activation in parts of the brain that are known to be involved in expecting and receiving reward (the ventral striatum and the ventral medial prefrontal cortex) than did those in the control group. Also, when thinking about what they most valued in a future context (e.g., "Think about a time in the future when you will have fun with family and friends"), but not in a past context, the self-affirmation group showed more activity in areas associated with thinking about the self (the medial prefrontal cortex and posterior cingulate cortex). 
Note that last detail — self-affirmation was associated with more self-focused brain activity only when contemplating future scenarios. This speaks to the most exciting aspect of this research: namely, whether taking a brain-based approach to self-affirmation can provide any insight into how to enhance the way the technique is performed (I'll explain why this matters shortly).
Before they tested their participants, Cascio and his team reasoned that because thinking about the future is associated with brain activity in some of the very same neural regions that they predicted (and later found) to be involved in self-affirmation, then it follows that performing future-based self-affirmation would be particularly effective. They predicted that, from a neural point of view, focusing on the future would reinforce the neural activation patterns that are associated with the self-affirmation technique. Assuming that this neural activity is important for the technique's success, then doing the self-affirmation in a future-oriented way ought to give the whole procedure a proverbial turbo boost.
That's exactly what the new results seemed to show. In the self-affirmation group, activity in reward-related brain areas and in self-related brain areas was greater when the participants were given future-based self-affirmation prompts. Also, comparing the self-affirmation group with the control group, the extra brain activity seen in the former group was accentuated when the participants were engaged in future-based self-affirmation.
Finally, and most important, the researchers found that the effectiveness of the self-affirmation was specifically correlated with levels of brain activity seen during future-oriented thinking. They know this because they looked to see how their participants (all of whom were sedentary and overweight) responded to health messages such as "People who sit less are at lower risk for certain diseases."
People can sometimes respond badly to messages like this, seeing them as a threat. The health message makes them feel bad about themselves — what if I did too much and get a disease! — and it's tempting for them to just bury their head in the sand. Self-affirmation can prevent this, researchers believe, because it reminds people that their self-worth has a broad foundation, and so the message about weight and lifestyle comes across as less threatening. This makes it easier to engage with the message and respond constructively, which is precisely what happened in this study.
The researchers found that the participants in the self-affirmation condition responded better than control participants to the health messages, becoming more active in the ensuing month after the study, as measured by accelerometers they wore on their wrists. What's more, it was specifically activity levels in the reward-related and self-related areas of these participants' brains during future-oriented (but not past-oriented) self-affirmation that correlated with their being more active in the month after the health messages, which entirely fits with the researchers brain-based reasoning.
A lot of the time, it can feel like cognitive neuroscientists are scanning people's brains just for the hell of it (Hey, let's see which area lights up when we get people to do this or that). This study is important for showing how brain-imaging research can be used to complement and illuminate psychological perspectives, in this case helping to explain and improve upon a well-researched self-help technique. As the researchers put it in science speak: "We find novel evidence that a future frame may act synergistically with value-based self-affirmations to bolster a sense of self prior to threat exposure."
Now, there's something to feel good about.
Dr. Christian Jarrett (@Psych_Writer), a Science of Us contributing writer, is editor of the British Psychological Society's Research Digest blog. His latest book is Great Myths of the Brain.