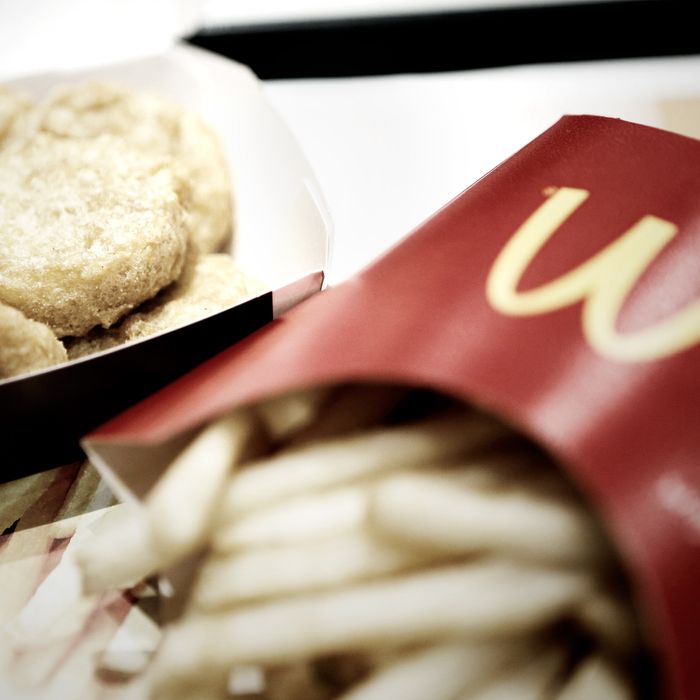 Photo: picturegarden/Getty Images
New York's Sex Diaries series asks anonymous city dwellers to record a week in their sex lives — with comic, tragic, often sexy, and always revealing results. Check back Sunday nights for your weekly peek behind doors left slightly ajar. This week, a fitness executive trying to get pregnant: female, 39, Brooklyn Heights, straight.
DAY ONE
5 a.m. Huge fight with my husband last night, so I slept on the couch. And by slept, I mean stewed. We had sex and he pulled out at the end?!!! Maybe that doesn't sound like a big deal but we're trying to get pregnant (really, I'm trying to get us pregnant), so everything revolving around love and sex is all twisted and mangled.
7 a.m. It's awkward, as we both get dressed for work. Anger in the air. I am angry with him. I'm almost 40 and I have no idea why he doesn't see this situation as critical. Why the fuck would he pull out?
1:30 p.m. I run the marketing for a trendy gym, and today work sucks because I'm tired and upset. I want to get us into couples counseling, so I spend a few hours talking to insurance about what's covered. I also ask them about fertility treatments and what's covered. Thank goodness I have a private office.
This is all such a huge pain in the ass and it's all on me. My husband thinks the more doctors we see, the more stress we have, the less fertile we become. But I think that's just shorthand for: I don't want to deal.
3 p.m. I run out for a McDonald's chocolate shake. And then I grab a Milky Way from the newspaper stand. I'm bingeing on sugar lately and gaining weight. Not helping our situation … or my job! I work in fitness!
6 p.m. By the time I get home, I've booked a therapy session (for me), found a couples therapist, had a second Milky Way. I'm exhausted and gassy. What a hot mess.
8 p.m. Husband is nice when I suggest couples therapy. He still can't explain why he pulled out last night — he said it was some sort of knee-jerk reaction. I find it really worrisome, but I'm still ovulating, so we decide to have sex. It's not great. I turn over on my stomach and stick my ass in the air so he can come. He loves to come that way — but then again, most men do.
DAY TWO
8 a.m. I don't feel like his cum "took" last night. We've been trying for four months and only married for six months (and only together for eight months).
Noon I have lunch with some co-workers. All we talk about is eggs, ovaries, sperm, and ovulation. It's the new normal. I am the only one (out of four) who hasn't had an abortion. I've never been pregnant and I've had a lot of sloppy sex. I try to stay calm about that.
3 p.m. I sneak out for "a coffee," but it's another McDonald's splurge plus a Milky Way run. I wonder if I come back smelling like fries.
5 p.m. I have therapy with a new guy. The old one sucked and blamed my mom for everything. I was like, Get a new line.
7 p.m. I cried a lot in therapy. I wondered if I married the wrong person since he's not dying to have kids like me. He wants them, but he'll live without them. I won't live … I will die. I wonder if we will get divorced, which means more years wasted and childless. I wonder if I've fucked up my life for good this time.
8 p.m. I pour myself a glass of wine and wait for Husband to come home. Therapist suggested I don't mention or think about babies for the night. He basically said to get tipsy and horny and just have fun for a night.
11 p.m. We finished the bottle of wine and fucked.
DAY THREE
8 a.m. I still feel like the sex didn't take. Plus, I'm a little hung-over. This means a day of shitty eating all day … things never change.
9 a.m. Bacon, egg, and cheese at my desk. I want McDonald's hash browns — it's all I can think about. I am having a secret affair with McDonald's. Maybe Ronald wants to get me pregnant.
Noon I get everything off the menu at McDonald's and eat on a random bench on a random side street. God forbid I'm spotted. Man, I love a McNugget.
3 p.m. I'm going to a fertility doctor just to get the conversation going. I'm so thirsty from lunch.
6 p.m. The doctor set me up for a bunch of tests and appointments. He said he's not worried about my pregnancy chances, but that stress and diet will play a factor. I vow to work on both, but it's not as easy as it sounds. Meanwhile, I hate my husband because he got held up at work and didn't make the appointment. Asshole.
DAY FOUR
8 a.m. I know I sound crazy but I woke up thinking I want to divorce my husband and get a sperm donor. This feeling is magnified when I tell my husband it's the last day of my fertile zone and he should fuck me before work. I swear his little dick crawls inside his loins when I say that. I am so alone.
10 a.m. I research sperm donors all morning. I should have gone that route all along. Now I have a marriage to extract myself from. Also, I want to eat an entire pumpkin pie.
5 p.m. I decide to take a break from my thoughts and get a massage. I increase it from 60 minutes to 90 minutes mid-massage. At 90 minutes I ask if he'll add another hour. He says NO.
7 p.m. Husband comes home. I've been so busy planning to divorce him and get a sperm donor that I actually have no beef to discuss with him for once. We order Thai food and have a fun night watching Shondaland. We make out in bed and he gets me wet by rubbing my clit over my underwear … he slips his dick inside me and we have some really good sex. I come and then he turns me over and he comes. Woo. Hoo.
DAY FIVE
9 a.m. I let myself get a little excited that maybe the sex took. I look at my calendar to see when the baby would be due.
10 a.m. I weigh myself at the gym. I've gained a few pounds but not as much as I thought. I'm 135 pounds and normally 128. I am about five-eight. You know what this means … I'm safe to have some Mickey D's! I know the doctor said no stress and a better diet, but since I don't feel stressed, I can be loose on the diet … right?! I'm kidding but this is the crazy talk inside my head sometimes. And I AM going to Mickey D's.
3 p.m. I have to bring paperwork to the fertility place and meet with a nurse about fertility options if I don't get pregnant in another month or two. Husband doesn't need to come to this appointment but it pisses me off that he doesn't offer.
7 p.m. Back to wanting a divorce and sperm donor. Jesus Christ I feel hormonal.
Day Six
9 a.m. It's the weekend so we have time to talk a little. We get coffee together. I ask him point blank, "DO YOU WANT A BABY?" He says, very sincerely, yes. We kiss and I enjoy the taste of his coffee breath. Okay then. Okay …
11 a.m. We have a nice day walking around Brooklyn. I wonder if the weekdays are just hard on us because of work and the New York hustle.
3 p.m. We see an afternoon movie. We hold hands. I don't think about therapists, fertility doctors, or McDonald's.
7 p.m. My ovulation is pretty much over so I don't push for sex and we don't have it.
DAY SEVEN
10 a.m. We are seeing friends with kids today. Should be interesting. I hope I don't behave like a freak. I'm at that point where friends with kids make me a little crazy. I hate that about myself but I can't really fight it (although I try).
3 p.m. Husband has so much fun playing with the kids. We make a lot of happy eye contact. I feel like we're in a scene from a movie. Like, this is our turning point. My heart is happy.
6 p.m. We pick up a pizza on the way home. What a fun day. I tell him that's what our life will be like. He agrees. He seems to be in a state of post-kiddie bliss. I really hope it sticks.
9 p.m. We go to bed pretty early. I hope I feel a little more balanced next week. We don't have sex, but we cuddle and kiss.
Want to submit a sex diary? Email sexdiaries@nymag.com and tell us a little about yourself.