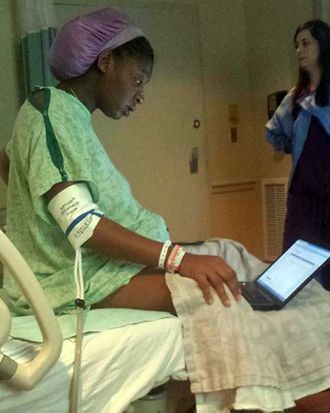 Hero
Photo: courtesy of Tommitrise Collins
While you were snacking and getting hyped to watch the new episode of Scandal last Thursday, one Georgia college student was taking the term "dedication" to a whole new level.
Twenty-one-year-old Tommitrise Collins was in a Macon hospital about to give birth when she realized she had a psychology test she needed to take online, and she could only do it that day. Instead of using the very legitimate excuse of "I'm in labor" to postpone the exam, Collins ignored her contractions and managed to complete it. A few hours later, she delivered a healthy baby girl named Tyler Elise.
No word on what grade she got, but A+ for effort.