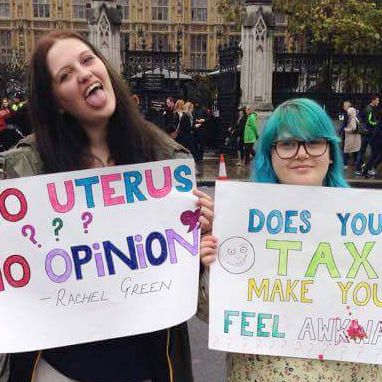 Photo: Charlie Edge/Facebook
One woman in the U.K. is so sick of paying the 5 percent luxury tax on sanitary products that she devised a creative way to protest: free-bleeding all over her white pants outside of Parliament.
"Everyone keeps saying 'haha omg how quickly would we get free tampons if everyone stopped wearing them?!'" 22-year-old Charlie Edge wrote in a Facebook post on Friday. "So, I'm giving it a go."
Edge and her friend Ruth Nana Howarth stood outside Parliament on Friday holding protest signs and free-bleeding with the hopes of making the powers that be uncomfortable enough to change their minds about the tampon tax.
"If people are grossed out by me not wearing a tampon then I think that emphasizes my point," Edge told BuzzFeed News. "They're not 'luxury items.'"
A few weeks ago, the U.K. submitted a proposal to the EU asking to scrap the tax, which many have labeled sexist. Unfortunately for those of us in the U.S., the vast majority of states still tax tampons. Quick, grab your white pants and we'll assemble at the White House.