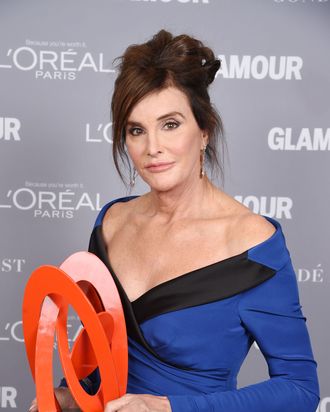 Caitlyn Jenner.
Photo: Dimitrios Kambouris/Getty Images
On Thursday, James Smith posted a letter on his Facebook page addressed to Cindi Leive, editor-in-chief of Glamour magazine, saying that he was returning his late wife's Woman of the Year award to protest the fact that they recently gave the same award to Caitlyn Jenner, a woman he calls "Bruce." Hm, this guy sounds bad. Smith's wife, Moira, was a police officer who died on 9/11 rescuing people in Tower Two of the World Trade Center. She was awarded a Woman of the Year accolade posthumously, but if her husband has anything to do with it, the award will be going back.
"I find it insulting to Moira Smith's memory, and the memory of other heroic women who have earned this award," Smith wrote on Facebook. "Was there no woman in America, or the rest of the world, more deserving than this man?" Later he added that he assumed this was a "publicity stunt meant to resuscitate a dying medium." (He apparently didn't have a problem, or didn't notice, when Laverne Cox was named a Woman of the Year in 2014; other past winners include Jane Goodall, Laura Bush, Hillary Clinton, Serena Williams, Billie Jean King, and Kaitlin Roig-DeBellis, a teacher at Sandy Hook Elementary School.)
Smith concluded by saying he'd discussed this "slap in the face to the memory of our Hero" with his family and that he'd be returning Moira's award. Is there a Husband of the Year award yet? I think I know just the guy to receive it.