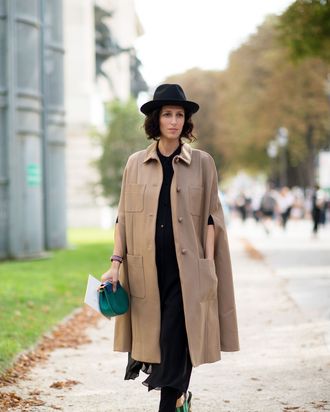 Yasmin Sewell.
Photo: YoungJun Koo/I'M KOO
While we don't yet have a glimpse of Style.com's new commerce-oriented iteration, the site just made a big announcement. According to Women's Wear Daily, Yasmin Sewell has been named fashion director at the site, a new position. Said Style.com president Franck Zayan in a statement, "Yasmin's unique vision for products, trends and talents will be pivotal in Style.com's growth."
Sewell will be familiar to anyone who follows street style — she even parlayed her much-remarked-on taste into a Barneys capsule collection and her statement-T-heavy collection Être Cécile (which she'll continue to design). But she's been working behind the scenes in the industry for far longer than the Sartorialist has been shooting. She has worked as a showroom creative director and a consultant in the industry, and has held past positions at Browns and Liberty of London.
The item also offers some more details about what we can expect from the reworked Style.com: The site will launch in the U.K. first, next year, and will then open in the U.S. As we all try to wrap our heads around the change, at least we know it'll be in tasteful hands.