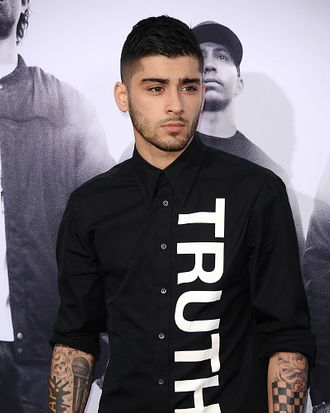 Photo: Jason LaVeris/Jason LaVeris
It's been seven long, lonely months since Zayn Malik severed ties with One Direction. Smoking weed in a garden-shed-cum-pirate-themed-pub in the backyard of his estate, the young adult sat down for his first major interview.
Malik is newly single after dumping his former fiancée, Perrie Edwards. Since tabloids suggested that he ended the four-year relationship with one text, Malik was eager to clear things up.
If you could word it exactly this way, I'd be very appreciative. I have more respect for Perrie than to end anything over text message. I love her a lot, and I always will, and I would never end our relationship over four years like that. She knows that, I know that, and the public should know that as well. I don't want to explain why or what I did, I just want the public to know I didn't do that.
After politely listening to Malik gush about how good it feels to make music he really cares about, The Fader's Duncan Cooper asked the star whether he even liked the music he spent years singing all over the world. "That's not music that I would listen to," Malik responded. "Would you listen to One Direction, sat at a party with your girl? I wouldn't."
To make himself crystal clear, Malik elaborated further.
If I was sat at a dinner date with a girl, I would play some cool shit, you know what I mean? I want to make music that I think is cool shit. I don't think that's too much to ask for.
Despite the millions and the major fame, Malik really is like most 22-year-old dudes: Hearing One Direction will induce an almost instant eye-roll.