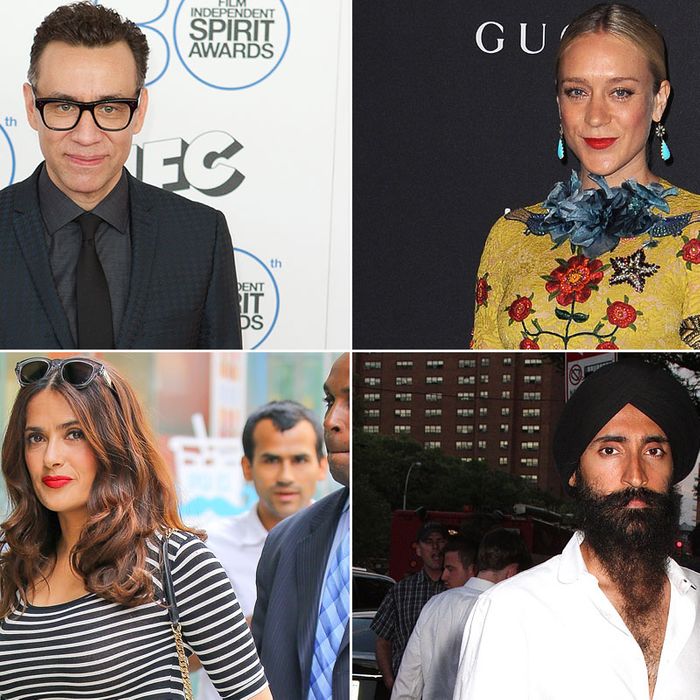 "Food, lots of food." —Fred Armisen
Photo: Corbis
A weeklong series on the art of entertaining, for women who are too busy for Pinterest.
Celebrities go to more — and better — parties than most mere mortals, so we asked ten of them to describe what makes a truly memorable event. Their responses ranged from the essentials like food and music (we have holiday-party playlists for you here) to surprising guests with live performers (Tara Subkoff's topless vacuum girls, anyone?). Read on for Salma Hayek's favorite kind of crowd, the Baltimore Christmas party Fred Armisen loved most, and that time, just the other day, when Waris Ahluwalia partied till 6 a.m. in Mumbai.
Chloë Sevigny
"Good music, obviously, good conversationalists, and people who are outgoing and want to be there and socialize. The guest list is very important."
Natasha Lyonne
"I think music is very important. Bad music is just going to ruin a party. People need to want to sleep with each other at a party. It's always fun if there's a smoking section."
Timothy Hutton
"When enough people know each other [and] enough people don't and the central event of the gathering is one that everyone is happy to be there for."
Tara Subkoff
"I like surprising people, I love performances. Topless vacuum girls — that was at my retrospective that Jeffrey Deitch produced. Then I did a show with a full-on water ballet. I redid a club into John Huston's Moulin Rouge. I think it is very much environmental and having a really beautiful space that is unusual."
Waris Ahluwalia
"A great [party] should probably go until about six in the morning. [This] just happened the other day in my room, at the Taj in Mumbai: 'Is that more Champagne or the wakeup call?' That's it right there."
Salma Hayek
"The people — if it is fun people, and they get along, and they like to celebrate things, and enjoy each other's company. If people are trying to make business at a party, it is not a good party."
Annabelle Dexter-Jones
"Plan it really last minute, and just throw it together, and invite way too many people, and have good music. My birthday party was a few weeks ago, and I did that, and I had a Thanksgiving party that kind of happened like that. We ordered Tea & Sympathy, but then the oven wasn't working so we had to take it to a restaurant next door for them to cook it, and then we decided to invite 20 people and it turned into this crazy dance party. I think sometimes something magical can happen if you don't think too much about it."
Stella Schnabel
"All there really needs to be is great music. Maybe some space to dance? Perhaps free alcohol. Good music really takes care of a great party because people just generally feel that vibe and want to have a good time. Bomba, jazz, Cuban salsa, Beyoncé is great. Hip-hop is really fun, and some really good funk or soul music."
Fred Armisen
"Food, lots of food. I went to a Christmas party two years ago in Baltimore and in the basement there was tons of food. It was the best."
Rachel Roy
"You need a level of elegance yet something comfortable and something effortless in the atmosphere. You need yummy food. You need good music, and you need people that are willing to participate. It depends on what kind of party it is. I'm doing a sweet 16 for my daughter in a few weeks and she wants very elegant comfort food."
*These interviews have been edited and condensed.