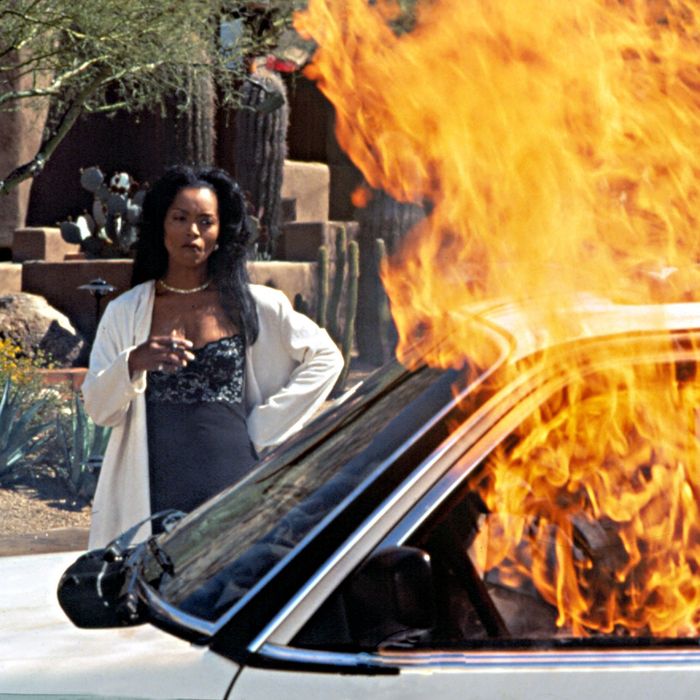 Angela Bassett in Waiting to Exhale.
Photo: 20thCentFox/Courtesy Everett Collection
When Waiting to Exhale came out, the Los Angeles Times hailed it as a "social phenomenon." I am inclined to agree. It was in fact, such a phenomenon that 20 years later, we still haven't seen another movie starring four black actresses achieve such mainstream success.
Waiting to Exhale is about four best friends living in Phoenix, Arizona (a refreshingly random choice of location). They're all successful, beautiful black women but even still, their love lives are pretty much bankrupt because they keep wasting their time on loser man-babies. Savannah (Whitney Houston) and Robin (Lela Rochon) are just waiting for their married lovers to leave their wives. Bernadine's (Angela Bassett) husband leaves her for another woman, while Gloria (Loretta Devine, underappreciated as always) is trying to convince herself that she's good enough to date her hot neighbor.
As the movie tagline says, "Friends are the people who let you be yourself — and never let you forget it." These women are here for each other through thick and thin, ready to listen with a glass of wine, a whoop, and a spontaneous dance party to "Exhale (Shoop, Shoop)" by Whitney Houston.

This weekend you could watch A Christmas Story for the hundredth time, but here's why you turn to Waiting to Exhale instead. It's a celebration of the necessity of female friendship. It's also a complex portrait of imperfect women (from before everyone was trying to write complex portraits of imperfect women). None of the protagonists are ever painted as struggling, barren career woman, just women with some stuff to figure out.
More important, the movie hinged on a stellar cast of black women, and while it explored experiences unique to them, it still appealed on a universal level — people of all colors and backgrounds get screwed over by their exes. And even though the story was being told by four black women, it "showed women that in spite of fractured relationships, joy, peace, love and kinship are always a possibility. It broke perception, preconception and history," says Bassett in a recent interview with the L.A. Times.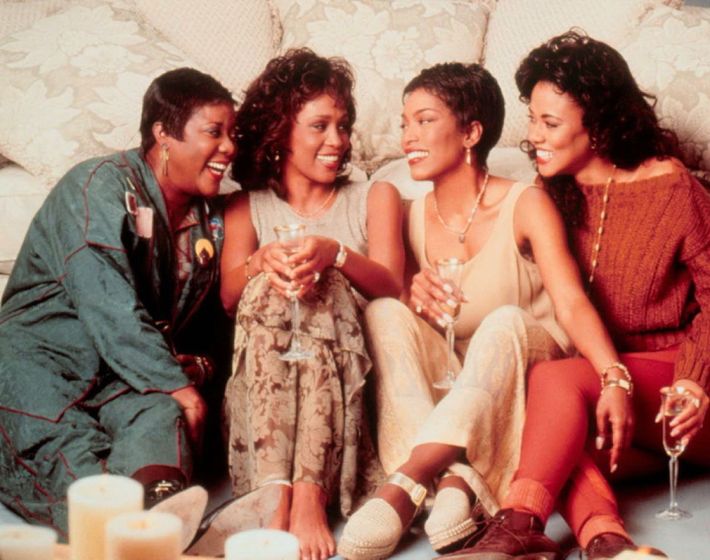 Everyone — including men who have had their car torched by a hot woman — can find representation in Waiting to Exhale. Which is key, because even two decades later, it feels like we're still struggling to accept that stories told by people of color can appeal to all people.
Also the "Shoop Shoop" song will forever be the best thing to cry-sing in a car with your pals of any personhood.  

So this weekend, instead of roasting chestnuts by an open fire, I encourage you to watch Angela Bassett roast her husband's BMW. It's on iTunes for $3.99; there's no reason not to.