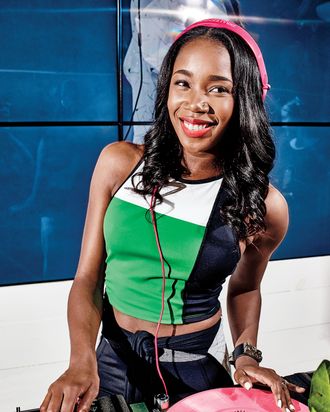 Jakissa Taylor-Semple, DJ Kiss
Photo: Bobby Doherty/New York Magazine
Here, five wedding pros tell you what you really need to know about picking a vintage gown, making the reception playlist, finding a tearproof mascara, and more.
The DJ: Jakissa Taylor-Semple, DJ Kiss
You and your husband, DJ M.O.S., are both DJs. Do you trade advice?
When one of us tries out a song and it works, we'll share it with each other. Recently, I came home from a wedding and was like, "Hubby, you have to incorporate Usher's 'Caught Up' into your set!" Turns out it's one of those gems people haven't heard in a while and go crazy for.
What was it like DJ-ing for George Lucas and Mellody Hobson's wedding?
I had to follow Prince, who of course performed an amazing 30-song set. After Prince, you can't exactly put on Ariana Grande. I stuck to classics that translated across generations, like "Rhythm of the Night" by DeBarge, Whitney Houston's "I Wanna Dance With Somebody," and "This Is How We Do It" by Montell Jordan. I was super-nervous, but then I saw Mellody on the dance floor, glowing, and I felt like I was doing my job.
What types of weddings tend to be the most challenging? 
It's a cool challenge when couples want to incorporate very different types of music. I did a New York wedding with a black groom and an Indian bride, and I had to mix together current songs with hip-hop and Bollywood-style music. I'd play some traditional Indian songs, then transition with something like "Beware of the Boys" featuring Jay Z, which samples that Punjabi sound. If you and your partner are from different cultures, I'd definitely recommend meeting with the DJ ahead of time; the more they know about your backgrounds the better.
Any other DJ-scouting advice? 
Go out and see them on a Saturday night. That way, you can watch a DJ in action, get a sense of their sound, and basically audition them without them even knowing. It's important to look for someone who's feeding off the crowd and not only concerned with what they want to play, since weddings are not the place for a DJ to showboat. Ask for their business card; odds are that even if a DJ doesn't specialize in weddings, they'll be down to spin at a reception.
What advice do you have for couples working on playlist suggestions for their DJ?
That, yes, your wedding is about you, but just like the food and the décor, it's also about pleasing your guests. I once DJ-ed for a bride and groom in Red Hook where the guy was really into these obscure indie artists. I told him I was happy to play whatever he liked, but that if I played the list he gave me, the dance floor would clear out. If you spin only songs that are too cool for school, that people don't know the words to, your little cousin and grandma are not going to be into it.
Pro Tip: "I get playlist inspiration from djcity.com — especially now that every time a new song drops, there are 30 remixes to consider along with it. The site is an industry standard, but it's also good for brides and grooms picking their songs."
212-905-2344; kissthedeejay.com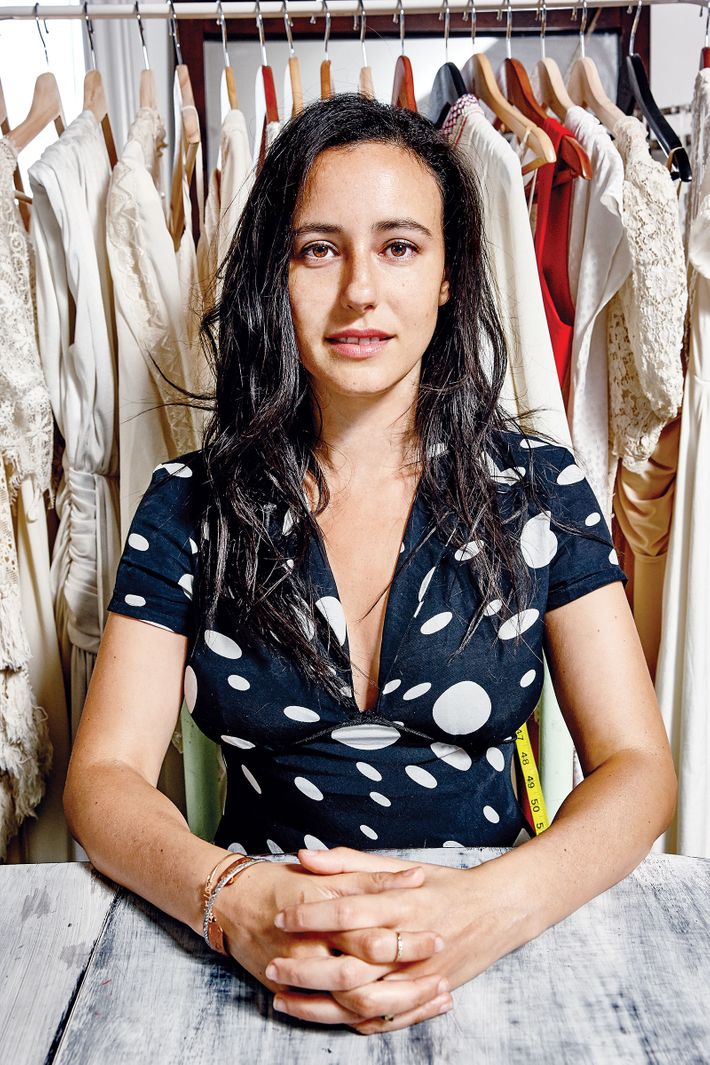 The Dress Dealer: Diana Leahy, founder of Freeheart Project

So you sell wedding dresses out of your Greenpoint apartment?
Yes, the Freeheart Project started as an e-shop, but we sell mostly vintage dresses. The biggest obstacle with vintage is fit, so I recently started taking appointments in my home. People were always telling me they wished they could just try on dresses in their living rooms, so that's exactly what this is. You come over, I have my racks out, and we sit down at my dining table to chat about what you're looking for. I use my second bedroom for the dressing room, and my living room is a big open space with lots of windows, so the lighting is great.
Who's your typical customer?
I'm catering to the low-key bride — there's a tiered lacey gown with bell sleeves from the '70s, a mock-neck linen gown with a long train from the '60s, an off-the-shoulder embroidered column gown from the '90s. My customers are indie-magazine editors and musicians; they love vintage because it's unique, and there's the whole mystery of who wore the dress before them. To make them even more unique, I'll dip-dye the gown or veil for you. And then there are the prices — of the 30 or so I carry, many are under $300.
What is the potential downside of a vintage wedding gown?
It's going to be very hard to get things in perfect condition. Lace gets stiff over time, and the finer threads will tear, as will delicate silk chiffon. But a little bit of the tattered look adds to the character. And I work with a seamstress who used to work for Vera Wang, so we can fix things, and we can also customize them — making a dress sleeveless, hemming it short, adding a built-in slip — for as little as $100 extra. These dresses do tend to be cut for smaller figures, but I try to have enough variety for a range of body types. Like I recently found this dress I call the Jasmine at the Long Beach flea market — it's sleeveless with all-over crochet lace, a scoop neck, and a tapered bottom that makes it universally flattering. I also carry ready-to-wear from smaller brands like Kite & Butterfly, a vintage-inspired designer out of L.A. with great labor practices.
And you offer other wedding services too?
I work with a lot of small businesses in this neighborhood. Local florists and I offer boozy DIY floral-arrangement classes from $70. One of my close friends is a wedding photographer, so I connect brides with her. I also offer astrology readings from $175, where a friend of mine meets with a couple to help select a wedding date by figuring out when the stars are best aligned to enter a union. There was a bride who really wanted a summer wedding, but her optimal date was sometime in March, so she was like, "Okay, I'm going to freeze my ass off in the name of love."
Pro Tip: "Most brides think they want something fitted and sleeveless, but a long-sleeved gown with a plunging neckline can be just as sexy."
 347-509-8047; freeheartproject.com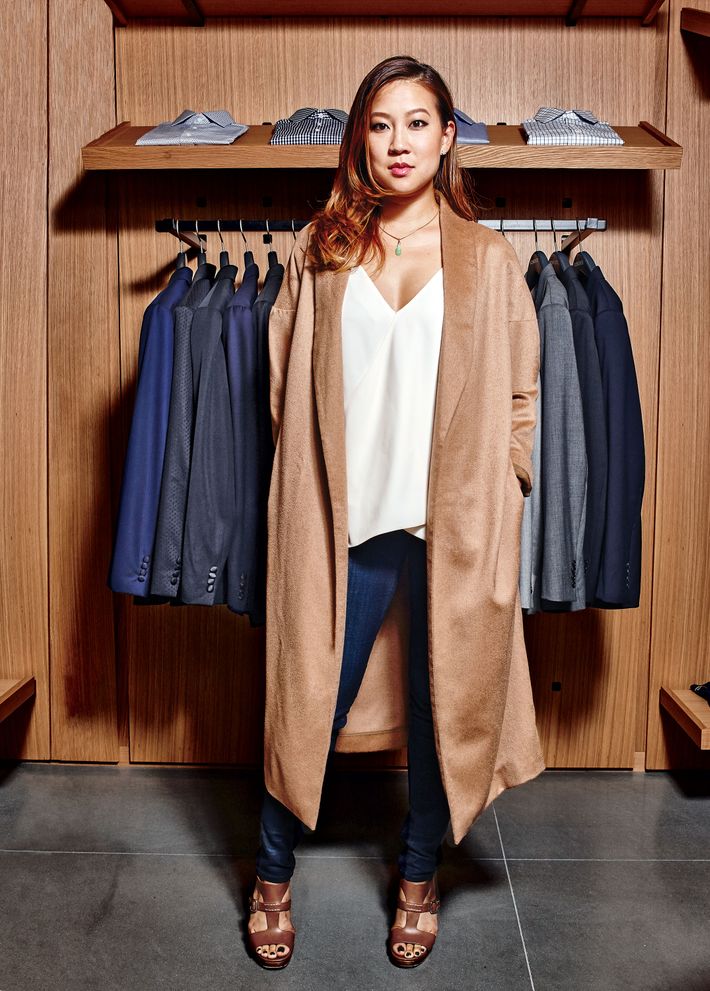 The Men's Tailor: Julienne Shaw, Guideshop general manager at Bonobos 

Why did Bonobos decide to launch Groomshop last January?
Our customers were asking us if we had suits and looks for weddings, and we didn't think there was really a place where men could go in a group or with a partner that didn't feel like a traditional retail store. We have comfortable couches and art and travel books lying around, and we serve Peroni and beers from Brooklyn Brewery.
What are the advantages for a groom?
Most of our customers don't have the budget to go bespoke, nor do they plan that far in advance. While our suits look and feel custom — because we offer such a wide range of fit offerings — they're actually off the rack, which means that there's no wait time. So once you're fitted for a suit — which range from $525 to $1,300 — it's shipped within one to two business days.
Can you tell what neighborhood a guy is from by the way he dresses?
Oh yeah. It's a fun little game we play. You can tell a Brooklyn guy because he'll be excited about a brown herringbone versus a classic black tuxedo. The Upper West Side customer won't do anything colorful; he'll do like four shades of gray and navy. He's into more of an old-school Mad Men look. East Village guys are more open to color and mixing and matching. And midtown is more of a traditional power-suit kind of guy, accustomed to black-tie weddings and galas.
What about going beyond the typical blacks and grays?
This past summer, we had a lot of customers asking for a brighter, lighter chambray suit in different fabrications. A big part of our job is to introduce these men to fabrics they're not used to wearing or thinking they can wear: Let's see how cotton linen drapes on your body. Let's mix and match floral prints with your shirt and do a really beautiful royal-blue cotton suit. That way you can get that pop of color or pattern, which helps in differentiating the groom from his groomsmen. For the fall, we're really excited about the color green. It matches really well with pinks, corals, purples, and different shades of blush.
Speaking of which, how do you make sure the groom doesn't outshine the bride?
The trick is trying a different fabric that's a conversational piece but still looks very classic in photos. Our Capstone Tuxedo in navy herringbone offers the same silhouette as our classic tuxedo but with a beautiful navy color in a wool herringbone fabric with contrasting black peak lapels. It stands out without being too overboard or trendy.
How skinny a suit is too skinny?
We have guys do their favorite dance move to make sure they can break it down on the big day.
Pro tip: "I'd like to see the cummerbund disappear — but I still see it all the time. It's really dated, and there's no need for it. If you're taking a tuxedo jacket off, you can just wear suspenders."
Various New York locations; bonobos.com/groomshop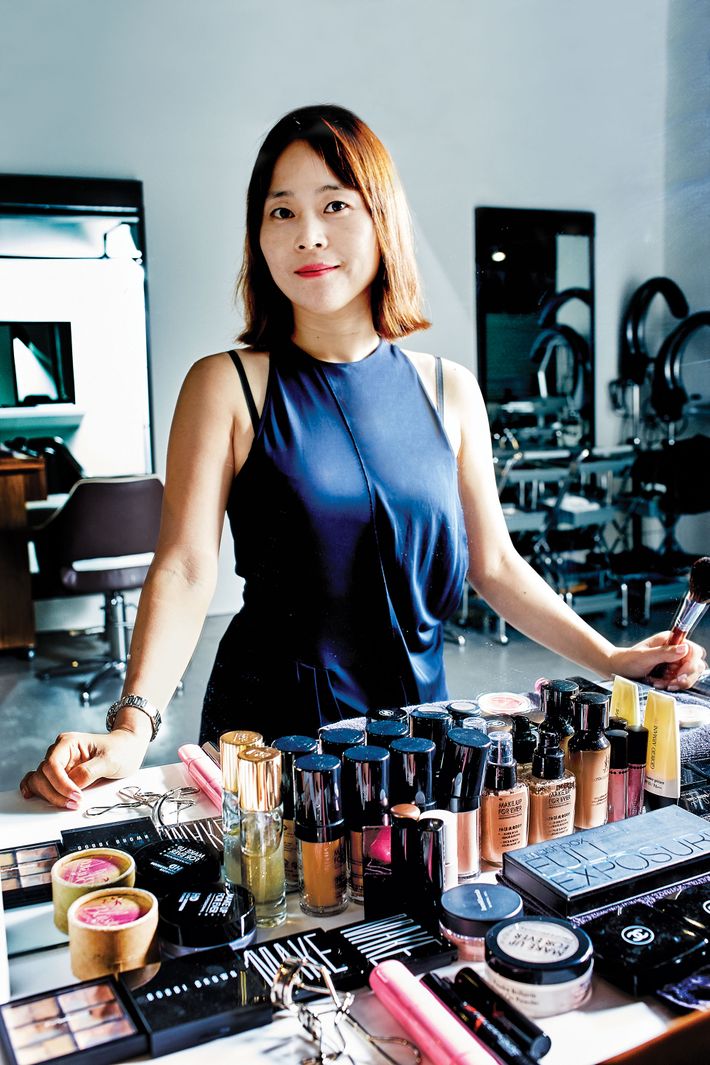 The Makeup Artist: E.J. Kim, founder of Ombre by E.J. studio

What is the look that brides request most from you, knowing that your specialty is Korean beauty products?
Most people want to look dewy and youthful — skin that looks healthy but isn't overly shiny. To do that in the winter, I tend to mix a facial oil with foundation to keep the skin moisturized. Although I'm all about Korean beauty, and Korea is known for their BB creams, I don't use them for weddings, because they don't last as long. I do about two pumps of face oil to four pumps of foundation. No face powder. I use a flat foam sponge to blot oil around the nose and chin. Then I'll do a very light contour. Using a lighter brown color, I'll go from forehead to cheek with a smooth S shape to create some definition in the face.
Is before the wedding the time to hop on the eyelash-extension trend?
I tell my clients not to get lash extensions. They often look too thick and unnatural. I apply the traditional false eyelashes instead, but I'm careful about choosing the length — you want ones that are only slightly longer than your actual lashes. I purposefully use false lashes from Korea rather than the U.S. because they're shorter and come in smaller batches. I like a brand called Kookje and mix in a few different lengths, so the focus is on fullness, which isn't too doll-like but still rounds out the whole dreamy effect.
What are the other parts of the dreamy effect?
You want to stick to warm tones when it comes to your blush, your eyeshadow, your lipstick. Cool and shimmery tones tend to look too harsh, and they don't blend in as well. It looks fake. And with eyeliner, I use a few different colors — a mix of liquid liners and shadow — rather than just black. Black looks too hard. Sometimes I'll do a black line first, another line of brown, and then black again or gray on top. I love using the liquid liners from Korea, like Clio, because they never smudge and last all night, no matter how humid or oily the eyelid.
What if you get a bride who's a crier?
First of all, I tell them if they're going to cry, look down. I make sure to use a good eyelid primer, like the one from Urban Decay, and then I use a waterproof mascara — again, from a brand called Clio in Korea, which is very long-lasting. Then I coat the lashes again in a clear mascara to seal them.
What about the prep in the days leading up to the wedding?
I suggest getting a facial two days before, one without extractions, which can leave redness. Or do one on yourself at home — look for a water-based mask, which tends to be the most hydrating, particularly if you're getting married in the winter. And then the morning of, I give my clients a face mask from a Korean brand called Innisfree before we begin the makeup.
Pro tip: "The most natural way to cover a pimple is with airbrush foundation like the one from Temptu, which has a really smoothing effect on the skin."
917-912-5689; eunjkim.com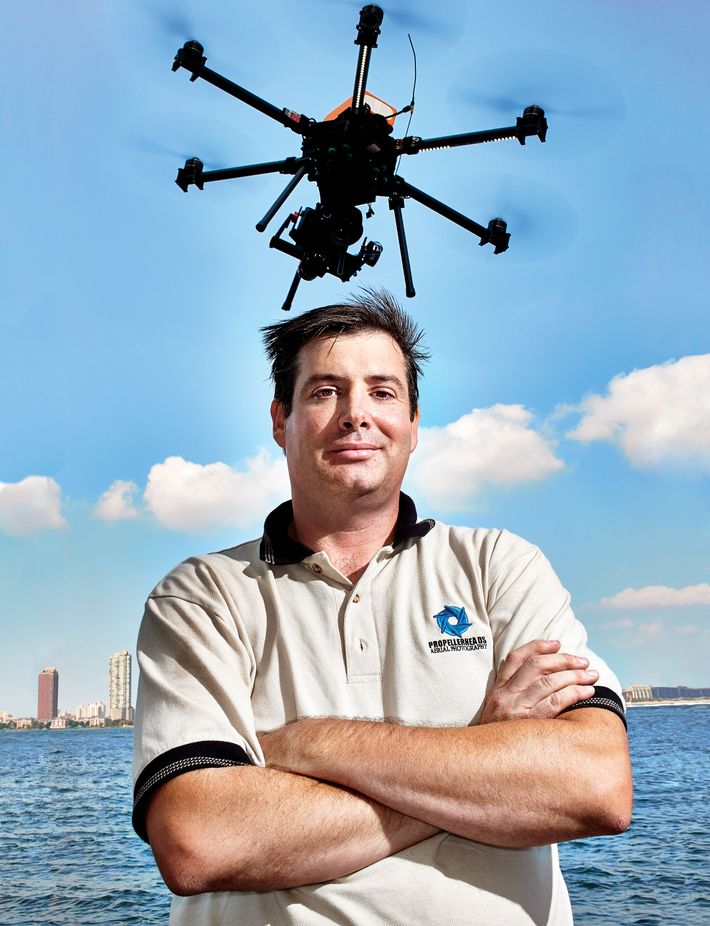 The Drone Photographer: Parker Gyokeres, founder of Propellerheads Aerial Photography
Why hire a drone for the big day?
It's the best way to get a sense of the scale, place, and context of a wedding, especially if it's on an estate or a large piece of property near a cliff or by a lake. When I go about 400 feet up, I can see four miles away. When we're taking a picture of the bride or groom walking up a hill to the altar, you can actually see the entire hill.
Does that height make cliché poses like the "first look" shot more interesting?
We do a great overall of the groom standing in the middle of the entire bridal party waiting to see the bride. We set up the bridal party on one side of the building and the bride on the other, so they're both in the same frame, but the groom can't see her yet. It's kind of a pre-first-look shot. There are a lot of shots that you can get on the ground of that moment, but none include the bride in a different location waiting to be seen for the first time.
So do you work alongside a ground photographer?
Yes, always. We add another level of depth to the day — most drone photographers use the Sony A7 series cameras and the Panasonic GH4, then they build their own rig to lift it; you want your camera to match the quality of the ground photographer so the images are consistent. We're better at the group photo because there's no wrangling crowds. All you have to do is take off, and everyone's paying attention. And you can have fun with it, like have guests spell something out. But there are some shots we can't do. You wouldn't really want us flying overhead with a 17-pound robot while the minister is doing the vows, because it's distracting. Also, it's not easy for us to shoot in the dark, so we rarely get any end-of-the-night shots.
Do you fly indoors?
Only if everyone's been safety briefed and I have the permission of the facility. But if it's a small wedding, and they really wanted a drone in the room, I would do it. I'd have to explain to everyone what to do if I have a problem and I have to make a sudden landing.
Would you take flight in the winter?
If it's a beautiful snowy day, you can definitely go outside for photos. It just requires a little more attention to keeping the batteries warm, having a waterproof vehicle, and making sure your subjects are comfortable. I'll do a test flight, so when I bring everyone outside, I'll know exactly where I want them to stand, and no one will have to wait and freeze.
How much does it cost?
It's about $3,500 for the full day, including still and video, which means it can cut the cost of having a videographer. It's expensive, but, you know, it's a luxury.
Pro tip: "The drone is an event, like the band. You're drawing a crowd with this thing."
229-548-0020; propheadsphoto.com
*This article appears in the Winter 2016 issue of New York Weddings.