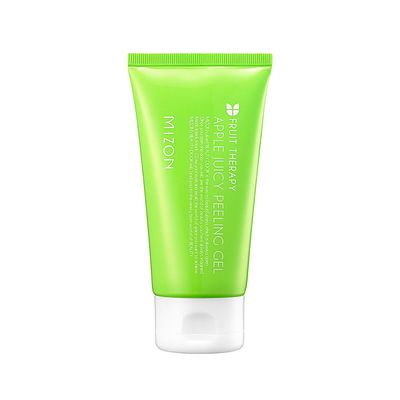 The nationwide ban on the pesky microbeads sometimes found in your face wash is imminent, with a bill heading soon to the U.S. Senate. As you assess your skin-care products for those that won't kill Flipper, consider this apple-scented face scrub, which is a best seller in Korea. In addition to a mixture of fruit and botanical extracts, it also contains barely perceptible granules that clean out every tiny nook and cranny of your pores. Yes, extra-fine granules are nothing new in an exfoliator, but these granules are Carribean-sand-tiny, and the formula is so nourishing that you might wonder if you picked up a moisturizer by accident.
Use it in the shower — combined with the hot steam, it's like a pore vacuum in a jar that even gets into that awkward crevice by your nasolabial folds. The apple scent is light and pleasant without being cloying, and since the formula is microbead-free, no wildlife will be harmed during your quest for gunk-free, otter-soft skin. 
Mizon Apple Smoothie Peeling Gel, $18 at Peach and Lily.