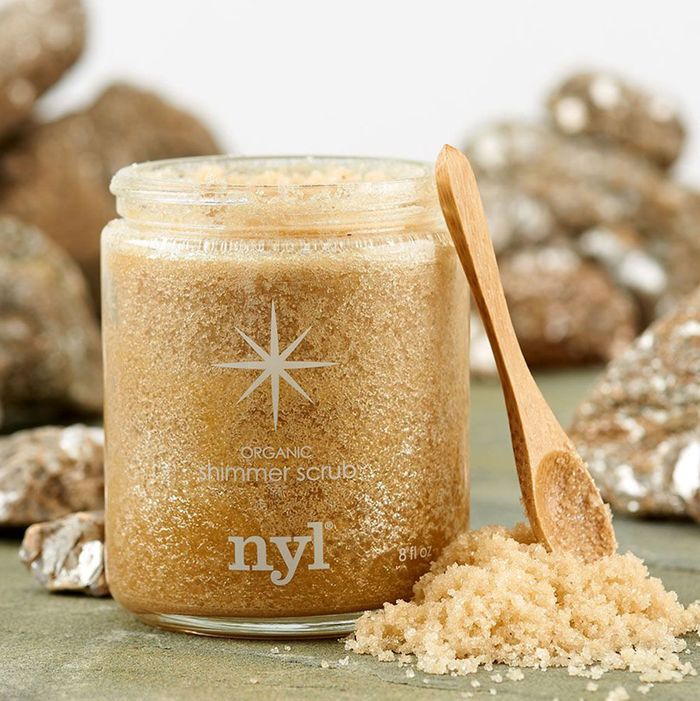 Nyl Shimmer Scrub
Photo: NYL
Body scrubs are old, really basic skin-care treatments that require limited efforts to make at home. It's because of this that I think big beauty brands take turns trying to reinvent the scrub wheel — to steer you away from obviously simple and affordable DIY remedies. For a while this resulted in microbeads, and we know how that turned out. The latest innovation, though, makes your skin literally shine, and that's the kind of scrub I can actually get behind.
On the surface Nyl's organic shimmer scrub seems pretty straightforward: It's mainly sugar and a few oils. But its smallest ingredient, mica, sets the formula completely apart. The mica behaves a bit like magic — it makes your skin radiant, as if you've rolled around in a vat of diamond dust or stepped onto a J.Lo. video set. The mica clings to skin after application, withstanding the rigors of rinsing and a day's use of wear. And the particles are much smaller than glitter, so you won't look cheap, but bright enough to feign a full-body highlighter.
Although the scrub is made with oils, the formula itself isn't oily or messy. In fact, it feels rather dry and crumbly. That's okay because my skin still feels soft and smooth after use. The scrub is outfitted with a tiny wooden spoon for scooping, which is helpful for smoothing the grains all over the skin and also serves as a useful measuring device. Two scoops are more than enough for a subtle, all-around shimmer. Try three if you really want to shine, or four if your immediate plans include a rave.
When light hits your skin, Nyl's scrub swaddles your complexion in a soft, white-gold-like shimmer. I like to pay special attention to my collarbone and décolletage so that at least one small part of my body can gleam during the colder months. But where you want to shine the most is, of course, at your discretion. 
Nyl's Organic Luminous Shimmer Scrub, $38 at Rodale's.