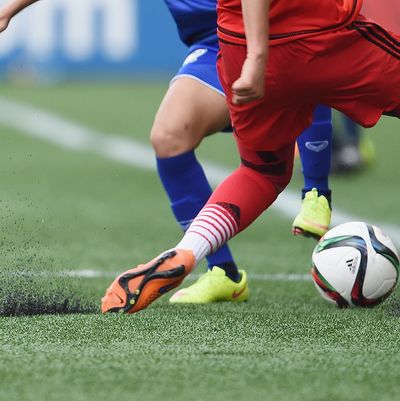 Players on turf.
Photo: Dennis Grombkowski/Getty Images
On Saturday night, the World Cup–winning U.S. Women's National Team decided to call off their friendly match against Trinidad and Tobago on Sunday after seeing the "horrible conditions" at Aloha Stadium in Halawa, Hawaii. The team took to the Players' Tribune in advance of Sunday's match with an open letter announcing that they'd be canceling their game, because Megan Rapinoe suffered an ACL injury on a "subpar training field," which was then followed up by an inspection of the official field. The team then deemed it unplayable.
"There were sharp rocks ingrained all over the field. They were everywhere. The artificial turf was actually pulling up out of the ground, and the turf itself was both low-grade and aging. This was a playing surface that looked like it hadn't been replaced in years," the team wrote.
There's an ongoing debate in women's soccer over turf versus grass — the Women's World Cup was played on turf despite protests and a brewing lawsuit that was dismissed after FIFA refused to budge on sacrificing turf for grass. In this case, the team maintains that the cancellation was about the players' safety. Bear in mind, though, that the U.S. Men's National Team played only five games of 15 in the U.S. on turf this year, and even then, U.S. Soccer officials installed temporary grass over turf for those matches. Of the eight out of 14 games this year that women have played on turf, the same measures were not taken, which contributed to the USWNT's team's decision to boycott Sunday's match. "We have become so accustomed to playing on whatever surface is put in front of us. But we need to realize that our protection — our safety — is priority No. 1. At the end of the day, we expect to be treated equally as our male counterparts," the open letter read.
"And we hope that, in the future, our fields and our venues will be chosen and inspected at the standard of an international match — whether it's men or women playing on the field."