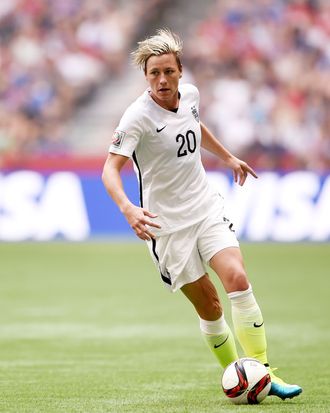 Abby Wambach.
Photo: Dennis Grombkowski/Getty Images
Abby Wambach, the women's soccer star who retired this year after a long and successful career (plus, you know, a World Cup win), could be doing any number of nice things in her retirement: moving to Fiji, getting a new dog, wearing her underwear around the house all day. But since World Cup winners are not usually known for resting on their laurels, Wambach will be dedicating her retirement to something bigger and better than lazing about: seeking equal pay for women in sports and beyond. 
At a Fortune Most Powerful Women Next Gen Summit in San Francisco on Tuesday, Wambach had this to say on the gender pay gap in sports: "Enough is enough."
"I'm not, like, male-hating. I believe we need them, too," she added. "But the reality is that people are brought up thinking that women are inferior." While Wambach hasn't revealed any concrete plans yet, she says her retirement will be spent focusing on closing the gender pay gap for athletes and women in other careers. Sounds relaxing.