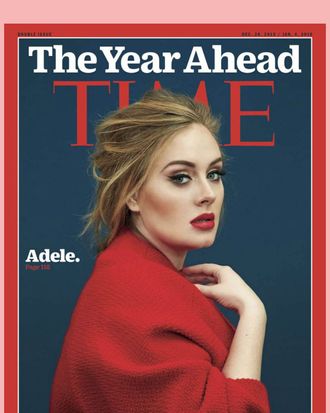 It seems very important to have a brand these days. Are you the Recently Woke Bro like Matt McGorry, or the Guy Who Saw Star Wars: The Force Awakens Seven Times? If you're struggling to define your own personal brand, Adele has some advice.
In this week's issue of Time, Adele — brand: the soul singer who inspires us to spend two hours applying a cat eye only to destroy our hard work by writing songs that make us cry — shares her tips for succeeding at life. Stop trying, she says. Just be a person with a personality:
I don't like that word. It makes me sound like a fabric softener, or a packet of crisps. I'm not that. But there's personality in an artist, and if you're expecting people to let you in and give themselves to you, you have to be a whole package.
So to clarify, just don't suck? If that seems too easy, you'd be right. Adele also adds that you should adopt an aggressive social-media strategy: throw yourself into your work and stop "waiting for half a million likes on a f–ing photo."