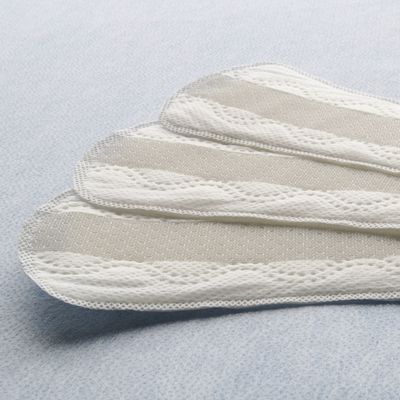 How one woman is bringing pads to Jordan's largest refugee camp.
Photo: Alex Hayden/Getty Images
A British woman is bringing sanitary pads to Jordan's largest camp for Syrian refugees. Profiled in BBC Magazine as "the unlikely sanitary pad missionary," Amy Peake is a yoga teacher and mother of three who started the nonprofit Loving Humanity to install sanitary-pad machines at the refugee camp Zaatari, where 79,000 Syrians live.
Last month the camp granted Loving Humanity a six-month pilot program. Refugees produce their own pads (and earn a salary) by using a special machine that makes winged sanitary and incontinence pads — cleanly and with minimal costs. "This is actually so much more than periods," she told BBC Magazine. "This is so big for women."
In the machine, a grinder essentially transforms wood pulp into fluffy clouds of material, which are placed in anti-bacterial fabric and disinfected under a UV light. Peake launched her nonprofit after reading a BBC Magazine article about the Indian man who invented it. The man, Arunachalam Muruganantham, realized that his wife, along with millions of Indian women, used rags during her period. So he created this machine for women to produce and sell their own pads.
Peake approached Muruganantham, who allowed her to copy his technology, and received help from a woman in India, Swati Bedekar, to make some modifications like adding wings. She is working out the details of the new pilot program at Zaatari, including how to distribute the pads and whether to charge for them. "My vision is that this machine goes all over the world to help poor underprivileged women financially by allowing them to work," she said. See how Peake makes the pads below.