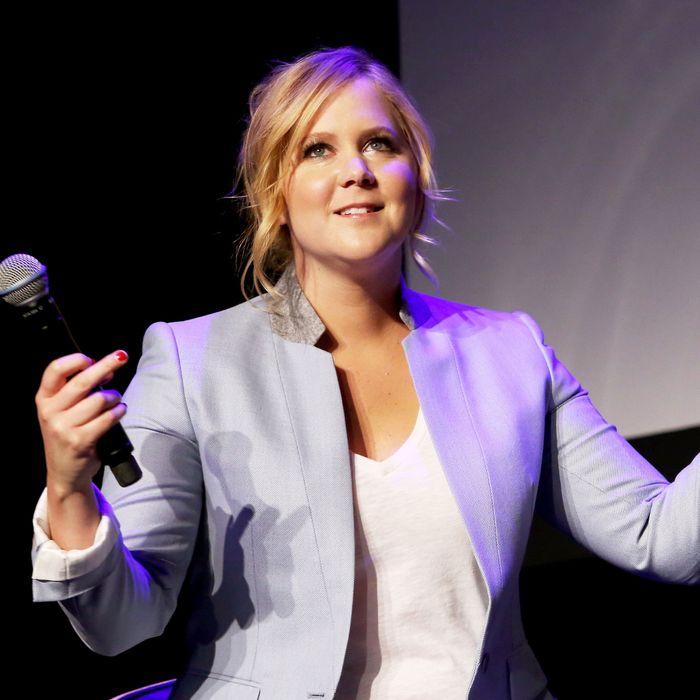 No one was quoted more often.
Photo: Robin Marchant/Getty Images
Inside Amy Schumer premiered in 2013, but it wasn't until this year that its star became ubiquitous. Amy Schumer ruled the world of comedy and beyond in 2015, promoting her movie Trainwreck, hosting awards shows and SNL, appearing on many a magazine cover, and staring at Amber Rose's boobs. Along the way, she dropped dozens of quotes about everything from her vagina to gun control. Below, the Cut has compiled the most memorable 50.
1. "I get labeled a sex comic. But if a guy got up onstage and pulled his dick out, everybody would say: 'He's a thinker.'"
—Esquire, January
2. "The difference between sex and love is I've never come from love." 
—Esquire, January
3. "The best advice my mother gave me was to 'be a lady.' But I never really knew what that meant, and obviously didn't take to it."
—Esquire, January
4. "Respect the kill."
—Esquire, January
5. "In L.A., my arms register as legs."
—Comedy Central's Night of Too Many Stars, March
6. "My vagina's right where it should be."
—Late Night With David Letterman, April
7. "This is where my poo comes out. Talkin' 'bout my fudge machine."
—Inside Amy Schumer, "Milk Milk Lemonade," April
8. "I'd like to be the guardian of Chris Pratt's ass."
—MTV Movie Awards, April
9. "If convicted, the next time you put on a rerun of The Cosby Show, you might wince a little. … We deserve to dance like no one's watching, and watch like no one's raping."
—Inside Amy Schumer, "The Trial of Bill Cosby" sketch, May
10. "JJ's a sweetheart. He's just missing, like, charisma, humility, and sense of humor."
—Guest appearance on The Bachelorette, "Amy Schumer With the Bachelors," May
11. "I'm sorry, were you flirting with that beer?"
—Inside Amy Schumer, "Beer Ad," May
12. "I'm probably like 160 pounds right now and can catch a dick whenever I want."
—Glamour UK Women of the Year Awards acceptance speech, June
13. "My mom told me I didn't need to shave my legs above the knee. I'm basically like Christopher Robin down there."
—Glamour UK Women of the Year Awards acceptance speech, June
14. "You're supposed to be really excited about a big penis, but when you're faced with one, it's like a unicorn — in theory, you've always wanted to see one up close but if it were ever standing in front of  you, you'd be like Fuck that and you would run. You'd be like, Oh, it's actually a horse with a weapon on its head."
—Sick in the Head by Judd Apatow, June
15. "You know when you're doing interviews, and the person sees someone more important behind you? It's like being at a party and there's a hotter girl behind you, and they just want you to drop dead. So I saw the reporter do that, and all the reporters were going crazy, and it was Kim and Kanye, just standing there, owning it, just being short and important. And I think falling is the funniest thing, so I just took a dive in front of them and pretended like I fell."
—On flinging herself at Kimye's feet on the red carpet, The Graham Norton Show, June
16. "My prince? … Turns out, I'm not really comfortable sleeping with a close relative and also, I just turned 14."
—Inside Amy Schumer, Disney "Princess Amy" sketch, June
17. "A guy could be talking to two women at a party, and one is beautiful and just won the Nobel Prize in Literature, and the other is slightly, just sliiiightly hotter and, like, has an interview at H&M in the morning. And ten times out of ten, you know how that's going to go."
—New York City's Beacon Theatre, June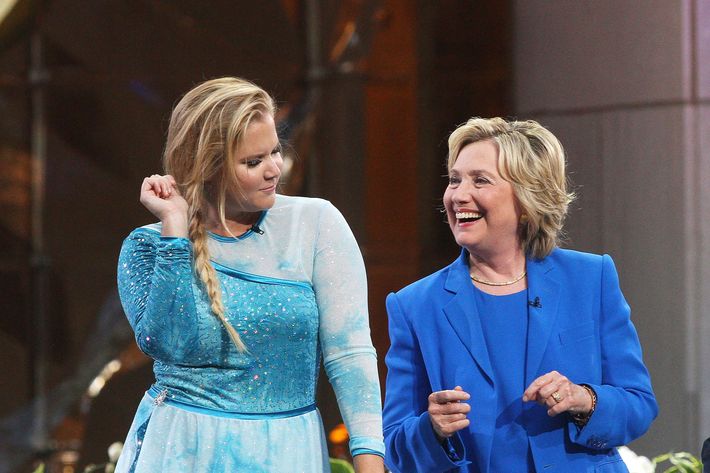 18. "Thank you so much for asking. I wrote this joke 2 years ago. I used to do a lot of short dumb jokes like this. I played a dumb white girl character on stage. I still do sometimes. Once I realized I had more eyes and ears on me and had an influence I stopped telling jokes like that on stage. I am evolving as an artist. I am taking responsibility and hope I haven't hurt anyone. And I apologize it I did [sic]. Thanks again for asking."
—Response to a Twitter query about her responsibilities as a storyteller after a Washington Post article accused her of racism, July
19. "That's the Hollywood secret: Don't put food in your dumb mouth!"
—Live! With Kelly and Michael, July
20. "I had my annual Pap smear. I got to go back to annual Paps because there's no HPV detectable in my system. We had a lot of laughs. [My gynecologist] kind of got something stuck in her throat while she was examining me, but from where I was sitting, it seemed like she was kind of gagging looking at my vagina. But it's always nice to see her."
—GQ, July
21. "I'm not going to shut up. And I think people only want women to speak for so long. They build you up, and then they're just ready to tear you down. Like Hillary — when it's really go time for her, I'll definitely be active, and that'll make people hate me."
—GQ, July
22. "More than anything, the story of this girl [in Trainwreck] was really important for me to tell … We're so quick to label somebody: 'She's a drunk slut, got it.' But I want to look at the nature and nurture that got her there."
—Vulture interview, July
23. "At the Glamour Women of the Year Awards … Katie Couric is like, 'Oh my God, my husband is here … should I go to talk to him?' I was like, 'I don't know, Katie Couric. That's your husband. I guess?' And I look and she left her phone open to texts from him. So don't worry, I didn't do anything, except I picked it up and I just without even thinking texted him: 'I want to have anal tonight,' and I sent it."
—The Tonight Show, July
24. "For women, we're taught to eat less until we disappear. And trained to believe that if you don't look like everyone else, then you're unlovable. And men are not trained that way. Men can look like whatever and still date a supermodel. I'm proud of what I said. I think it's good to see somebody saying: I have a belly. And I have cellulite. And I still deserve love. And to catch the old D. And to not apologize."
—Glamour, July
25. "I don't try to be feminist. I just am. It's innately inside me. I have no interest in trying to be the perfect feminist, but I do believe feminists are in good hands with me."
—Glamour, July
26. "Make sure he knows that you're entitled to an orgasm. I like to say it. I'll be like, 'Hey, there are two people here.' I'll be like, 'Oh my God, have you met my clit?'"
—Glamour, July
27. "Did your dick get stung by 90 bees?"
—Trainwreck "Line-O-Rama," August
28. "It says Happy Birthday. Because it was your birthday. You're a supermodel, and you're dating Jake Gyllenhaal, but I am living here, and I am eating this. So good. 'You are a princess.' Yes I am. Yes we can, I am."
—Drunk-eating Jake Gyllenhaal's frozen princess cake, The Late Show wWth Stephen Colbert, September
29. "Thanks everybody who has helped me. Thanks to the girl who gave me this sort of a smoky eye. I really love it."
—Emmys acceptance speech, September
30. "We have to be a role model for these little girls, because who do they have? All they have really is the Kardashians … And like, we used to have Khloé. Khloé was ours, right? Whenever there's a group of women, you identify with one of them … Khloé, she lost half her body weight. She lost a Kendall! We have nothing. I want good role models."
—SNL monologue, October
31. "I am a woman with thoughts and questions and shit to say. I say if I'm beautiful. I say if I'm strong. You will not determine my story — I will. I will speak and share and fuck and love and I will never apologize to the frightened millions who resent that they never had it in them to do it."
—EW, October
32. "This has been an insane year for me. I made two New Year's resolutions. No. 1, I wanted to catfish someone. Did it, loved it, recommend it. And No. 2 was to this year just once take off a pair of underwear and have it not look like I blew my nose in it. Same? Same?"
—HBO special, Apollo Theater, October
33. "So I showed up to film this movie and I was like, I think I'm a model now. I think a lot of girls are like this. We have a sneaking suspicion in the back of our heads like, Am I maybe …. gorgeous? I think I'm gorgeous. Right? I'm gorgeous, but I just haven't stumbled on the right hairdo, you know? One day on a whim I'll just cut bangs and everybody will be like, Damn! and I'll be like, Oh my god, treat me the same you guys, I'm the same person under here."
—HBO special, Apollo Theater, October
34. "The reason I don't know what my pussy looks like is because women never look at their vaginas. Like, men, you look down, you're like, Oh, there's my dick, hopefully. But girls, you would need like a hand mirror and to do some Cirque du Soleil. It's hard to find, and then the only time you see it is if you get a bikini wax, and they wax you and they show it to you, and there is no faster response time in the world. You're just like, Yup! That looks great!"
—HBO special, Apollo Theater, October
35. "We need to be nicer about cum, we really do. Cum gives us life, you know! Gandhi was cum. Oprah, cum. Oprah could have wound up all over somebody's tits but no, we got Oprah. Thank you, cum. And yes, it is sticky and gross and no one ever wants it in their mouth ever, ever ever, but we need to change how we're thinking about it. It's not a wonderfully regal moment as a woman when you take a load. When someone comes in you, you're not like, We can do it, I'm glad I leaned in. It's a fact of life, okay? All the greatest women have dealt with it, okay. Ruth Bader Ginsburg, Diane Sawyer, Michelle Obama."
—HBO special, Apollo Theater, October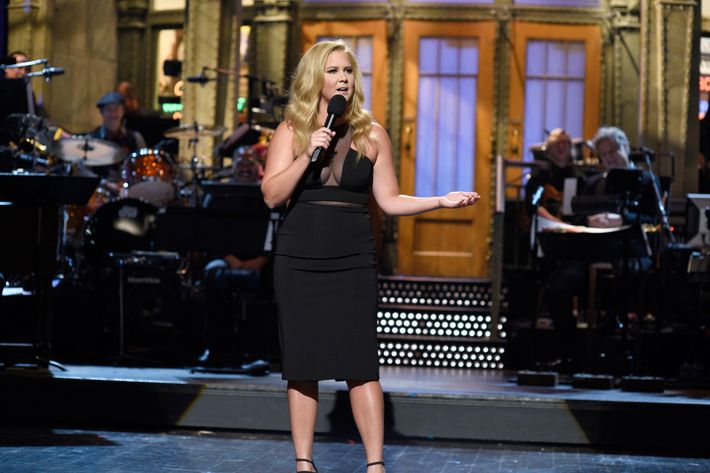 36. "The first person I saw was literally Kate Upton. … And I was like, 'Oh, I get it. I'm not a real woman. I'm just harvesting organs for one.'"
—On attending a Lakers game, HBO Special, Apollo Theater, October
37. "A UTI, in case you don't know, is not a college online. It is a urinary-tract infection. I just got my first UTI at 33 and nobody tells you how embarrassing it's going to be. Like, 'How'd you get it?' You know how I got it! I had sex and then I was too lazy to pee right after. I chose to lay there like a come dumpster just … a receptacle. Was I savoring the moment? What was I doing?"
—HBO Special, Apollo Theater, October
38. "Gun to my head, 'Amy, what does your pussy look like?' Um, probably like the mouth of an old lounge singer, there's like a cigarette hanging out of it. She's like doing the Charleston and scatting, calls everybody honey."
—HBO Special, Apollo Theater, October
39. "The other day I was having some wine and some weed and an Ambien. Or, as I like to call it, 'Tucking myself in.'"
—HBO Special, Apollo Theater, October
40. "Creative types all treat their dicks like a soufflé in the oven. You can't make a big motion or a loud noise near it or it'll fall and you have to start over with a good attitude."
—HBO Special, Apollo Theater, October
41. "There's the Donkey Punch, or like the Dirty Sanchez. The classics that we all grew up with. But there's so many you've never heard of. There's the Dirty Rochester, have you heard of that? That's where the guy shits on your chest while he's on a business trip to Rochester. Is that maybe not really a thing and I was perhaps lied to? … There's no good one for the girl, like the Wacky Shirley where she sits on his face and reads her tweets? We have nothing!"
—On sex moves, HBO Special, Apollo Theater, October
42. "Women want to come. Of course we want to come! What girl is like, 'Oh no, it's cool. I'm just honored to be witnessing your process? No, I don't want to feel the one good thing we're allowed as humans. Just you. Please. Anywhere!'"
—HBO Special, Apollo Theater, October
43. "There was a shooting during one of the screenings of my movie this summer in July in Lafayette, Louisiana, and these two girls, Mayci Breaux and Jillian Johnson, died, and I was very, very upset. … All we were fighting for was for people who have been convicted of domestic violence or if they are severely mentally ill, like, I don't think you should be able to get a gun. … What a lot of people hear is: 'You want to take all our guns!' I'm like, 'Oh my god, no, you seem great. You should get more guns.' I'm just talking about the severely mentally ill — 'You're taking all our Amendments. What's next — you're going to fuck animals?' And I'm like, 'I've been fucking animals for my whole life, sir.'"
—Baby Buggy Gala, November
44. "Beautiful, gross, strong, thin, fat, pretty, ugly, sexy, disgusting, flawless, woman. Thank you Annie Leibovitz!"
—Instagram, November
45. "Please, please, take some photos. Isn't that salad great? I'm wearing the shortest dress, you're probably getting a photo of my clitoris right now."
—2015 Women's Media Awards, November
46. "I have a real love-hate relationship with women's magazines. These photos are not important, and it's images that we see every day. There's no need to pit women against each other. … These places who are supposed to be covering women, a magazine, I won't say the name of it, Women's Health, they have articles like 'How to Trick Your Stomach Into Thinking You Like That Weight' or 'Why Does My Vagina Smell Like a Christmas Ornament?' Huh? Sally Field is here, so fuck you guys. Diane Lane, Gloooooooria Steinem. Women's media is powerful, and we need more women."
—2015 Women's Media Awards, November
47. "We don't need each other in terms of work, but it does feel like we need each other in terms of our friendship. … There are just some things I feel like we really understand about each other. I believe people come into each other's lives when they need them, and Jen and I just kind of like clung to each other, like this is happening for a reason."
—On her friendship with Jennifer Lawrence, The Hollywood Reporter's "Awards Chatter" podcast, November
48. "I'm, like, newly famous, and it turns out it's not fun. Did you guys know that?"
—Sierra Club's Act in Paris event at the McKittrick Hotel, November
49. "Cuba Gooding Jr., sit on my face. I don't care how, I don't care when. I've got a face, and I want you to use it as a seat. … I don't know how that works for men and women to do it that way. This is a seat."
—Sierra Club's Act in Paris event at the McKittrick Hotel, November
50. "Just as good as the male comics: We put on our pants one leg at a time, just like them. And then we bleed in those pants."
—Sierra Club's Act in Paris event at the McKittrick Hotel, November