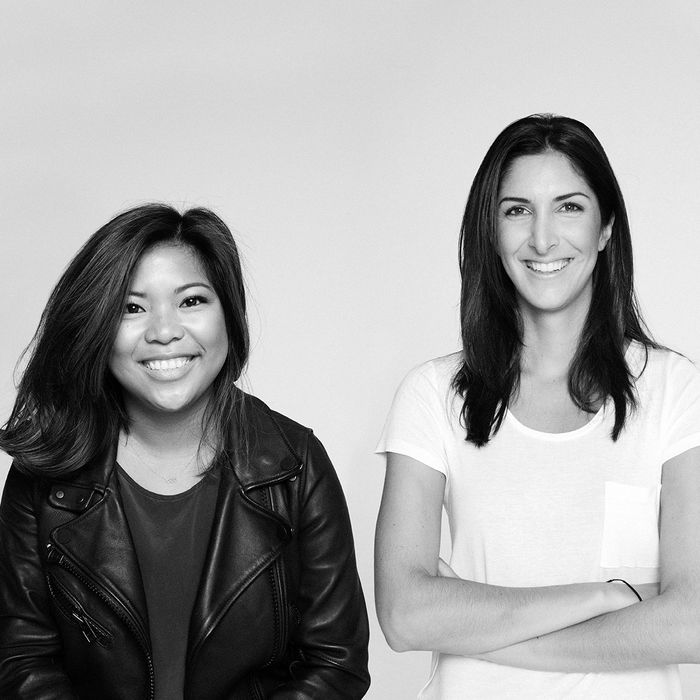 Jen Rubio and Stephanie Korey
Photo: Nate Poekert
Jen Rubio and Stephanie Korey are sitting in their Little Italy offices, fresh from a trip to Panama where they shot the first look book for their fledgling travel brand, Away. The location, the American Trade Hotel, "always kept popping up in our mood boards," says Rubio. Finally, they decided, "this place exists — let's just shoot it there." It's typical of the duo's fly-by-the-seat-of-their-pants approach to trips.
Their company, however, is anything but a snap decision. Away has been in business for almost a year and has a single, much-honed product on preorder. In that sense, it has more in common with a startup than a fashion brand, which feels appropriate, since its co-founders met on their first day at Warby Parker, where Rubio ran social media and Korey was the head of the supply chain. They quickly became one another's "work wives." As Korey puts it, "Anytime one of us was having a bad day or just needed to vent about something, we were like, let's go grab coffee. Because it was never the other person we were frustrated with."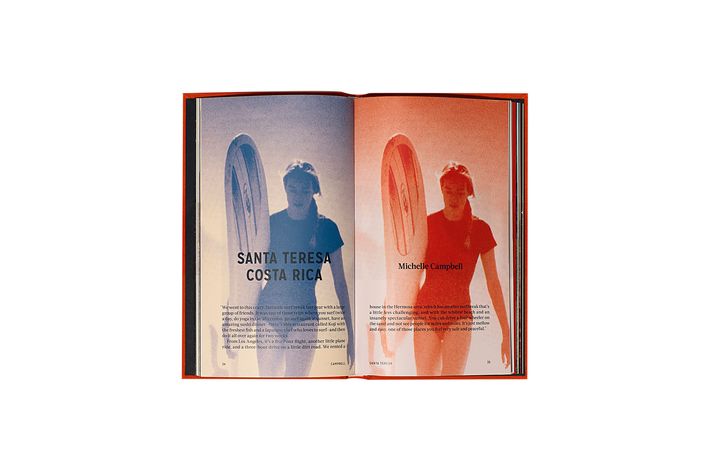 After leaving Warby Parker, Korey got a business degree from Columbia and Rubio worked at All Saints in London.* Both are frequent travelers, and would often complain about a gap they saw in the market. "You see people of very discerning taste show up with really old, crappy luggage that's broken, or that free duffel bag you get at a work party," Rubio noted. The two asked themselves, where's that great, inspiring luggage brand that doesn't cost a fortune? Months of surveying several hundred travelers — "from middle-aged CEOs to college students to fashion editors to management consultants," says Korey — resulted in their first design, a sturdy carry-on (complete with a much-appreciated internal charger) available for pre-order now and shipping in February. (It ships with a travel book, The Places We Return To, that features the favorite destinations of friends like artist Simone Shubuck and fashion editor Laurel Pantin.) They will introduce checked bags in spring 2016.**
Rubio and Korey say they don't consider Away to be a luggage company, but rather a travel brand, or, as Rubio says, "not just a company that sells a suitcase." Like Everlane or Outdoor Voices, they're part of a new cadre of fashion labels that are run like lean startups and only offer a hyper-specific range of products. VCs are already taking an interest: As of this summer, the two had raised $2.5 million in seed funding. And on their advisory board? Their former bosses, Warby Parker co-founders Dave Gilboa and Neil Blumenthal.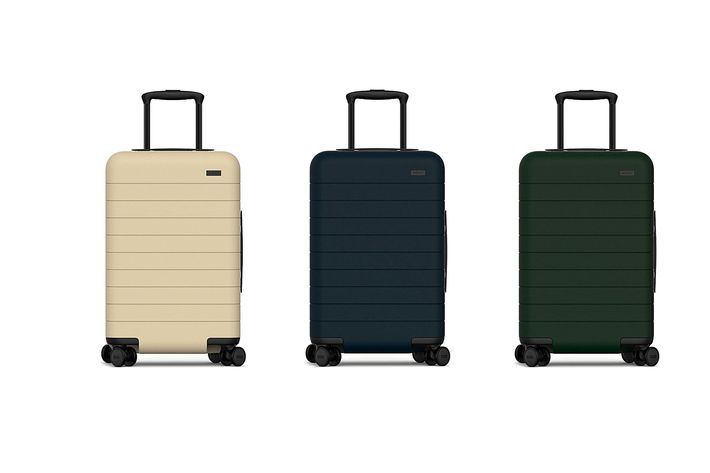 Rubio and Korey answered our Taste Test to gauge some of their fashion and, of course, travel preferences.
Destination of choice?
Steph: On work trips to Asia, I always try to do a stopover in Hong Kong for a day or two. A more vacation-y destination: a couple years ago, I went to Puglia, the southeastern tip of Italy, where American tourists don't typically go. That was a really special trip, just because it felt more like an authentic experience. Everywhere you go you're surrounded by masserias, these old farmhouses.
Jen: I love Tokyo, and I've gotten to explore the city pretty well over the last few years, which has been great.

What's the best way to kill time at the airport?
Steph: I work. If I'm just sitting in the airport, I'm on my phone — I have my Google apps, my Slack app. I can almost completely do my job from my phone, so if I'm just sitting at the gate, I'm using the time to get work done.
Jen: If I'm in the Delta terminal at JFK, I always sit on the roof of their Sky Club and watch the planes take off … while working!
Steph: Jen's sitting on the roof getting inspired, and I'm sitting on my phone.

What's the one thing you always pack?
Jen: It's such a weird little thing, but I think it's so luxurious to have the toiletries I have at home. I always have little versions of whatever I'm using at home.
Steph: I have two things I always pack. I always pack super-comfortable pajamas because when I'm traveling. I'm normally having very long days, and when the day is over, I just want to get as cozy and comfortable as possible. I get very dry skin on planes, and Glossier has this rosewater mist-and-moisturizer combo that's the most hydrating thing. If I put it on during a long plane ride or after, it really does a 180 for me.  
Jen: I also have this scarf that's huge — it's like a blanket — and it's basically my scarf when I'm walking and my blanket on the plane.
Steph: We call it a blarf.

Do you have a stance on sweatpants at the airport?
Jen: I think there are so many amazing, stylish options now. I think people who have good hygiene and are comfortable — I'll never judge that. I'd rather sit next to someone, or be someone, who's clean and in nice-looking sweatpants than a gross sweaty person in a suit.
Steph: I travel in Outdoor Voices sweatpants all the time. In my mind it's justified because they're $100, so they should be considered real clothes.

Where do you get travel inspiration?
Steph: There's a travel Instagram account that I've been obsessed with for a really long time — the girl's name is Jessica Stein and her Instagram is @Tuula Vintage. After a year of being obsessed with the account, I then found out that Jen is of course friends with her. Now it's my goal to run into her in some awesome country.
Jen: Phillip Lim's Instagram is amazing. He's so real and so genuine — he was just in Ethiopia, trying to work a loom.

On the few occasions that you're home, what are your favorite ways to be a tourist in your own city?
Stephanie: I live right by the West Side Highway and the Hudson River, so my peace-seeking is: I go for a walk, if I'm feeling ambitious, a jog, if I'm feeling weird, roller-blading. And there's a restaurant near my apartment called Malatesta: cash only, house wine in a carafe, super-good authentic Italian food. I'm there a few times a week.
Jen: I love going to the reading room in the public library. My second day at Warby Parker, they had done a guerrilla fashion show there, and I was like, "This place is amazing." I live in the East Village, which has so many good restaurants, and I'm trying to work my way through all the restaurants with good reviews on the Infatuation.
Stephanie: Yes, there's no one I trust more about anything, not just food.
*An earlier version of this article misstated that Rubio worked at the digital agency Carrot Creative in L.A. after Warby Parker. She worked at Carrot Creative in New York before Warby Parker.
**An earlier version of this article also misstated Away's luggage availability. Carry-on bags are available for preorder now, and checked bags will be available in spring 2016.