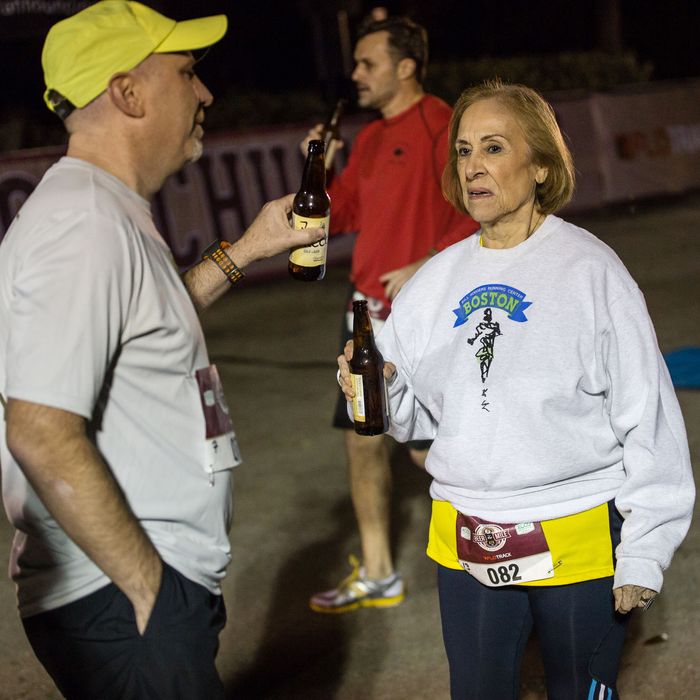 Elvira Montes, an inspiration to us all.
Photo: Caleb Kerr
For the uninformed, a beer mile is a contest of both speed and intestinal fortitude. Participants chug a 12-ounce beer and run a lap on a track a total of four times. Naturally, there are penalty laps for hurling. Tuesday marked the FloTrack Beer Mile World Championships and while the male and female champions finished faster than we could even drink the beer, the real hero is 81-year-old grandmother of three Elvira Montes, who has the distinction of being the oldest finisher, completing the event in 20:24.
And Runner's World reports that she smoked her kids: She was 50 seconds ahead of her 47-year-old daughter, and her son-in-law didn't finish. It was her daughter who suggested they enter the Austin, Texas, event last year, and Elvira was game, despite the fact that she doesn't even like beer. (She prefers Scotch, specifically Chivas Regal. Classy broad.) So why do it? Let the world's coolest granny explain: "I don't have any secrets, I just wanted to prove to my daughter that I could run and drink beer." Still, she thinks she can improve her chugging speed. Her goal is to get under 20 minutes next year and she plans to train by drinking beer on the treadmill.
After the race, she and her daughter went to Hooters, where they celebrated with chicken wings and Scotch. We can only hope to age as gracefully someday.