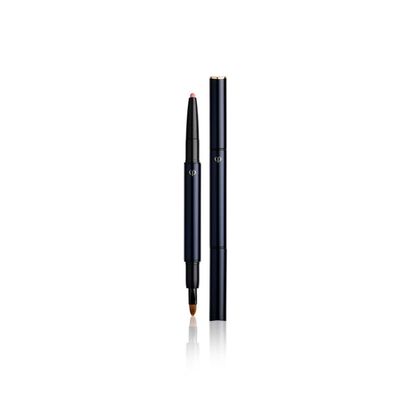 Cle de Peau Lip Liner
Photo: Courtesy of Cle de Peau
The trouble with lip liners is that they are generally awful, terrible things to work with. They can be waxy and offer little coverage, or matte and sticky and completely dry your lips. Since lip liners are helpful at prolonging the lifespan and magnifying the color of lipsticks, I've made it my very personal undertaking to find one that isn't drying or useless, and I finally found one with Clé de Peau's ultra-luxurious version.
This liner glides on my lips like butter melting in a warm pan. It's important to note that lately, my lips have been more chapped than I care to admit, but the liner doesn't seem to judge. Even on rough, jagged patches, Clé de Peau's lip liner easily skates across, delivering a rich, intense pigment along the way. It's the perfect accompaniment for someone like me who prefers to fill her entire lips, and not just the perimeter, with a layer of lip liner to ensure the most even coverage. It supplies moisture to lips while providing a sticky grip for lipsticks.
When I wear it, my lipstick stays in place for hours, long past any drink or meal. There are six colors in the lip-liner collection, from a light pink to a deep berry. It's a bit surprising that there are no reds, but 205, a mauve, is a close match. As for me, I tend to stick with the pinky-nude option, 203, because you can tell me about a new lip liner, but you'll never convince me that there's anything better than a perfectly nude lip.
Clé de Peau Beauté Lip Liner, $30 at Saks Fifth Avenue.