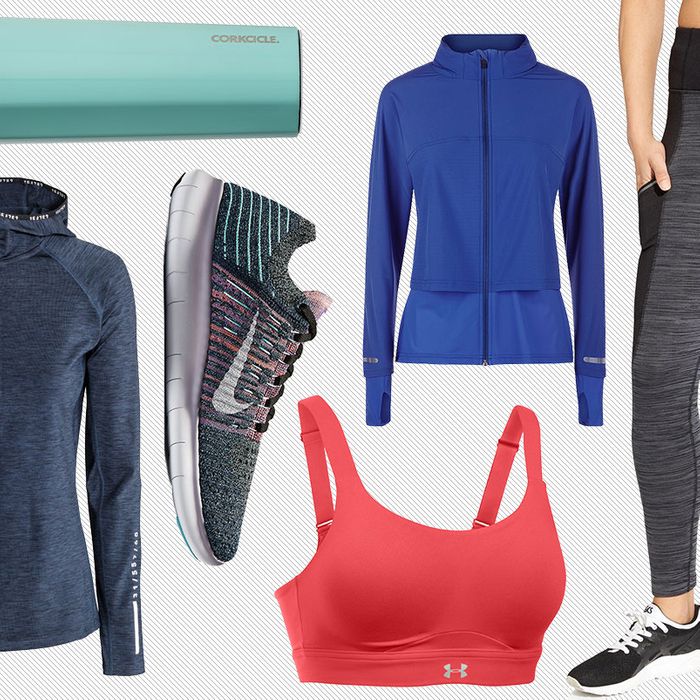 So it's a few days into the New Year and you're finally going to make 2017 the moment when exercising regularly becomes a part of your routine. The only downside? Most of your sports bras are a few years old and you don't have enough to last the week without doing extra loads of laundry. Consider this the time to buy a few new things to round out your gear. Not only will you be (somewhat) more comfortable when you're suffering through the umpteenth burpee in a row, you won't be stuck rifling through your dirty clothes, looking for the least-stinky top in the bunch. (Not that we're speaking from experience or anything.)
When was the last time you bought new sneakers, and not the kind meant to be worn with jeans? Probably years ago. You'll want new ones if you're running or cross training. Nike is always a solid bet with their cool designs but Adidas comes a close second. Added bonus: Adidas feels like you're running on clouds.
You can never have enough sports bras, and if you're the type who prefers less-restrictive support, this is one option to buy several of.
Sports bras that accommodate a diverse range of chests have gotten sleeker and sexier. Sure, this costs more than a cheapo bra, but it's worth spending a bit more for comfort and support.
Much like bras, you can never own enough tank tops. Nike's version is affordable enough that I buy three and rotate them. But if you're looking for more color or interesting design, these other two are equally as good.
Looking at these leggings, you might wonder about the point of wearing long pants when they have sheer mesh panels. Here's why: Most studios will get steamy hot, so you'll want the ventilation — but outside will be cold, requiring your ankles to be covered. Just throw on a longer coat and you're good to go.
Finding the right tights is a matter of personal preference, but an informal survey among workout-obsessed friends showed that Lululemon not only holds you in, but also makes your butt look great.
The future of athleisure might be up in the air, but if you're the type to go from workout to brunch, you'll want a cool sweatshirt. This version features dramatic lace-up sleeves, a unique detail that'll look good with leggings or jeans.
And if you'd rather get a pullover that costs way less, this Bey Hive–approved version is well under $100.
Layers are your friend when you're venturing out into sub-freezing temperatures for a run. This top's affordable, sweat-wicking, and thin enough to slip under a windproof outer layer.
This thin jacket is windproof and meant to keep you warm without adding bulk on moderately cold days.
So you insist on running no matter what the thermometer says? Invest in a down jacket like this lightweight one. It also features zip-off arms, so you can convert to a vest on warm days.
Having worn these fleece-lined tights under my snowboarding pants on a 11 degree day, I can say they're unparalleled. They kept my butt dry even though I had sat in multiple snowdrifts and moved with ease as I turned. If you're a runner who wants warm legs, you can't go wrong.
For the type who considers a bra a more-than-appropriate workout top.
Here's another bra-meets-crop-top for the trendy fitness fanatic.
Having used this bottle in a 90-plus-degree hot-yoga room, I can attest that it kept my water refreshingly cold and helped me get through a particularly rough class.
If you buy something through our links, New York may earn an affiliate commission.