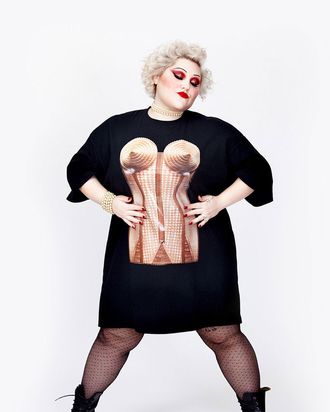 Beth Ditto.
Photo: Beth Ditto
Beth Ditto and Jean Paul Gaultier go way back. The Gossip singer worked the designer's runway in 2010 and wed in custom Gaultier in 2013 — now, the two are designing together. In advance of her plus-size clothing collection launch in February, Ditto worked with Gaultier on a $165 T-shirt with the image of his iconic cone-bra corset.

"Jean Paul is the most generous, positive person," Ditto said in a statement. "He truly loves women of all sizes and ages and knows how to make everyone feel gorgeous. I love that this shirt is funny and chic at the same time, like all the best people!" Added Gaultier, "Big girls are beautiful and Beth is super-beautiful! Long live the beauty with shapes, boobs, and bottoms."
The collaboration marks the first time Gaultier has made clothes that run up to a size 30. We'd like to see his fellow high-end designers follow in his footsteps.