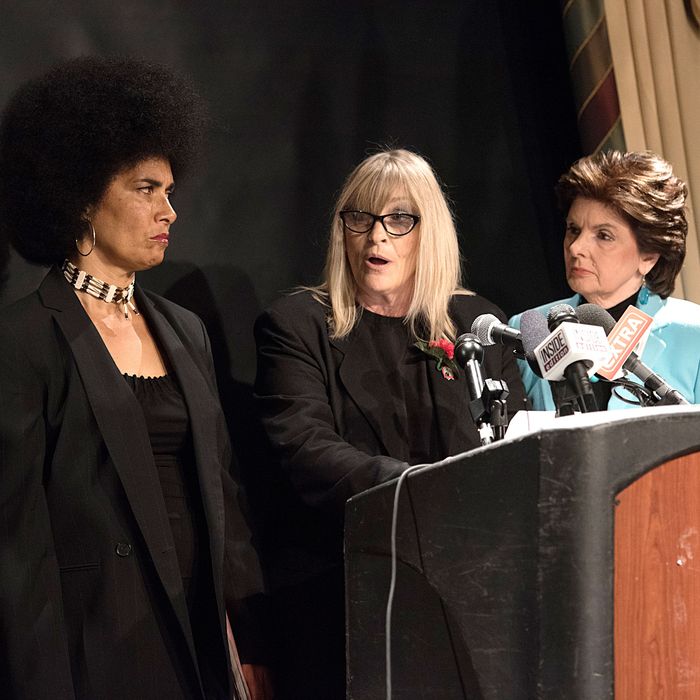 Actress Lili Bernard and writer Sammie Mays with lawyer Gloria Allred, at a press conference in New York City in May.
Photo: Noam Galai/Getty Images
Next week, Bill Cosby will face a preliminary hearing in a criminal case brought against him in Pennsylvania on December 30, nearly 12 years after Andrea Constand says he assaulted her, 11 years after the then-prosecutor declined to bring charges, and just barely before the statute of limitations was set to expire this month. The charges (three counts of aggravated indecent assault, for which Cosby has been released on $1 million bail) cap an extraordinary five months of unprecedented legal jujitsu, following ten years of relative inaction since the first lawsuit against him in 2005. Since July, eight more women have come forward, putting the total number at close to 60. Several universities, including Fordham, Marquette, Spelman, Tufts, and Brown, have revoked Cosby's honorary degrees; the faculty of his alma mater, Temple, recently voted to condemn Cosby. And what once seemed like an impossibility — that decades-old claims against a powerful celebrity might end up in a court of law — is now a reality.
The Pennsylvania charges, despite their dramatic under-the-wire filing in Montgomery County, had been building all fall. In September, it emerged that the county prosecutor's office was quietly reexamining the case, and that the Cosby team had reportedly begun contacting area criminal defense lawyers to see if they'd be willing to take on such a case. Cosby even became a flash point in the race for district attorney in Montgomery County, outside Philadelphia. Republican Bruce Castor Jr. was a candidate in this year's race for the same job he'd held a decade ago, when he declined to pursue the Andrea Constand case. During this fall's campaign, Castor's opponent, Democrat Kevin Steele, ran television ads that identified Castor as "a former DA who refused to prosecute Bill Cosby." Castor countered by saying that if he were elected, he'd bring a suit against Cosby for perjury (and also seemed to imply that Constand hadn't given him all of the information in the case — as a result, she brought a defamation suit against Castor during the campaign). Steele won the election, in an upset; he's the prosecutor of record in the December 30 filing.
Twelve years later, the Montgomery County case against Cosby is a very different one — in large part because Constand's voice is no longer a lonely one, and the dramatically changed climate around the case of the last six months could affect the outcome of a trial. As Jeffrey Toobin wrote on The New Yorker's website, the case may come down to "one of the most controversial and difficult questions in all of criminal law": whether the judge deems "bad prior acts" that point to intent and a modus operandi — like, for instance, similar accusations from dozens of other women, many of whom would be eager to testify against the defendant — to be admissible. It's the kind of evidence that juries tend to find convincing, and that defense lawyers, understandably, fight tooth and nail. But, according to the Times, "experts also said the wave of accusations against Mr. Cosby by dozens of women over the last year strengthened the prosecution's case even if the women are not permitted to testify, because their public denunciations have resonated broadly."
In addition to a more straightforward civil case against Cosby brought by Judy Huth in California, for an alleged 1974 incident, many of Cosby's accusers have pursued defamation cases against the comedian —a gambit that first amendment expert and Widener University law professor Rodney Smolla calls "a new, quite innovative" strategy  and one that, as long as the suits aren't thrown out by judges (which it doesn't look like they will be, says Smolla), means that a jury trial will likely result. It effectively and creatively circumvents the statute of limitations, at least in terms of forcing a civil judgment. To win their suit, Cosby's accusers will need to convince a jury that he did indeed rape or assault them; he'll need to prove that he didn't.
It's not unusual for cases against celebrities to result in defamation suits, but usually the celebrity is the plaintiff. "There's even a notion that if you're a famous person and you don't file suit [when accused of something untoward] it might be seen as a tacit admission of guilt," says Smolla.  But beginning in late 2014 several of Cosby's accusers began to reverse the script, arguing via a similar suit that the very public denials of Cosby's team were tantamount to calling the women liars, looking to profit from their accusations. (It's the last bit — the implication the women were looking for a payday — on which the crux of the new defamation strategy rests; an accused party and his attorneys have always had the right to deny the allegations publicly). This fall, more of Cosby's accusers either joined the original suit or filed their own, spurred by a cascade of women testifying en masse. Smolla says the sheer volume of women — and the way their allegations were received by the public over the past year — helped to lay the ground for the potential success of the defamation strategy. "It's not unusual for lawsuits and new theory to emerge out of legal culture at the same time."
"Last November, there were question marks in the public's mind, but as more and more and more women came forward, the public shifted towards being more supportive and believing the women," says attorney Gloria Allred, who represents about half of the accusers.
Seven women — Tamara Green, Therese Serignese, Linda Traitz, Louisa Moritz, Barbara Bowman, Joan Tarshis and Angela Leslie — are now part of that original joint lawsuit against Cosby in Massachusetts federal court. Earlier this year Cosby's team asked a judge to throw out the claim. After that was denied in October, Cosby countersued, arguing through his lawyer Monique Pressley that "each defendant has maliciously and knowingly published multiple false statements and accusations from Fall 2014 through the current day in an effort to cause damage to Mr. Cosby's reputation and to extract financial gains" — citing, specifically, deals with NBC and Netflix that fell through. (The same month, Cosby broke ties with his longtime attorney, Marty Singer.)
Joseph Cammarata, who represents the seven women, told New York, "This was exactly the defense tactic I'd expect at this stage… They want to victimize the victims." The countersuit could be seen as a warning shot to other accusers, says Cammarata: "People think that if you come out and speak against him that there will be a price to pay." Smolla sees it as simple self-preservation. "In some way there's no downside for countersuing because he's already in court, and evidence is already going to come out. Once there's exposure to civil liability, there's not as much motivation [to hold back from a countersuit.]" If the suit proceeds as scheduled, Cosby will be deposed on February 22, and his wife Camille on January 6. (Cosby's team has filed an emergency motion to delay Camille's deposition.)
Although the seven women represent the largest defamation suit against Cosby, other accusers have filed similar cases, including Janice Dickinson. Dickinson's case, which cites an incident in which Cosby's former lawyer called Dickinson a "liar," was scheduled to proceed with a Cosby deposition in November, but an appeals court granted a temporary stay requested by Cosby's team. Meanwhile,  Cosby's team has also sued the model Beverly Johnson for defamation and asked a Pennsylvania district court court to throw out a defamation suit brought against thecomedian by Renita Hill, under the grounds that she was never personally named in his blanket denials of the rape and assault allegations. A group of Cosby's accusers is in the process of setting up a crowdfunded nonprofit, under the name "Defend the Ladies," to cover legal fees, should Cosby sue them for defamation. (The women say that if they don't end up needing the money, they plan to donate it to a rape-related charity.)
Meanwhile, Allred and several of the Cosby accusers have become deeply involved in work to change statute of limitations laws to be more favorable to alleged rape victims, a movement they've hashtagged #EndRapeSOL. On November 21, they organized a "Walk of Shame" at Cosby's Hollywood Boulevard star to raise awareness. "It's not about retribution, it's just something that needed to change for the longest time," accuser Beth Ferrier, who has spearheaded similar efforts in Colorado, told The Huffington Post. In Nevada, a campaign led by accuser Lise-Lotte Lublin successfully extended the statute of limitations to 20 years in cases of rape. Allred says similar legislation will be introduced in California in January. "Bills like this have been introduced before, but they've never passed," she says. "But this time it has more of a chance, more than ever."
*This post originally misidentified one of the women suing Bill Cosby for defamation. It has been updated throughout.