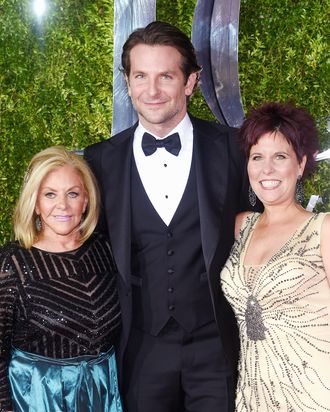 The Coopers.
Photo: Dimitrios Kambouris/Getty Images
Bradley Cooper is entering the all-important down-home-boy phase of his life: His accent has taken a slight crude dip, he doesn't mind being seen in cargo pants and Eagles gear, and his mother — excuse me, his motha — is pretty much the light of his life. In promoting Joy, the David O. Russell film about Miracle Mop inventor and queen of HSN Joy Mangano, Cooper told Seth Meyers that his mother is obsessed with QVC. Can't you just see in his eyes how much he loves that woman?
Cooper, of course, brought his ma to the premiere on Sunday, as he has been known to do in the past. He told Meyers that she wore an "Audrey Hepburn brooch" direct from QVC, and that wasn't all she'd bought from the TV order service. She also bought a device.
"This doesn't make any sense," he warned before describing his mother's summary of her purchase: "I bought this great device, when you're driving in the car, it can tell you how to get to the place."
Not Google. Not a GPS. Just a device. Cooper added that Gloria (what a mom name!) was convinced of its usefulness: "It's a device I can carry around with me!"
Bradley Cooper loves his mom, so therefore, we love him.