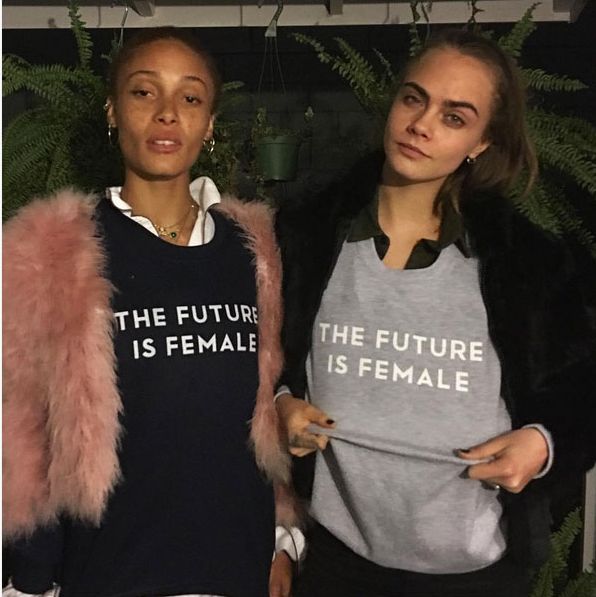 Cara Delevingne.
Photo: caradelevigne/instagram
Perhaps you've seen celebrities and noncelebs alike sporting a sweatshirt with white text that reads "The future is female." Lena Dunham owns one; Jill Soloway owns one; Kiran Gandhi owns one. The design came back into style recently after an Instagram account dedicated to sharing iconic images from lesbian herstory posted a photo of Alix Dobkin wearing a T-shirt with the design. Rachel Berks, owner of a shop in Los Angeles called Otherwild, saw the photo, printed 24 T-shirts with the phrase, and soon found that the shirts were wildly popular.
But now, after being photographed in one of Berks's sweatshirts, Cara Delevingne has gotten into hot water for attempting to sell the design herself — though technically it doesn't belong to Berks either. On Instagram on Saturday, Delevingne posted a photo of herself wearing the sweatshirt, saying that she'd be selling them at her website with proceeds benefiting Girls Up! Though the post now at-mentions both h_e_r_s_t_o_r_y and Otherwild, initially there was no reference to where Delevingne first saw or acquired the design.
In response to Delevingne's post, Berks took to Otherwild's Instagram to defend her right to sell the sweatshirts (25 percent of proceeds go to Planned Parenthood). In a statement to Jezebel, Berks explained that Otherwild had been given permission by photographer Liza Cowan for "reissue and redesign of the slogan" and that it is "protected under copyright law." Berks continued, "It is confounding that she would do this to a small queer feminist-owned business after purchasing the product from us just a few weeks ago. She has changed the attribution several times today, but she has not offered to wholesale from us, or cease and desist producing and selling our shirts and create her own design."