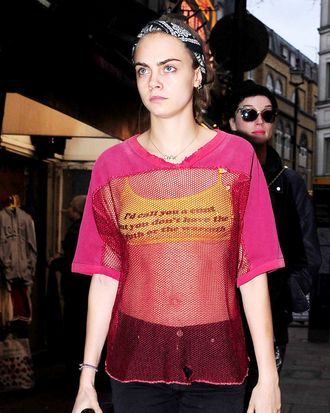 That's all she wrote.
Photo: XPOS/AKM-GSI
Only a few days before Cara Delevingne and her girlfriend, Annie Clark, were out in the streets of London completely dousing clueless paparazzi with water guns, the actress and former model sent a message to her haters on a crop top. A warning, perhaps, of what was to come? "I'd call you a cunt, but you don't have the depth or the warmth." Oh dip. These are the kinds of looks one would expect from one half of 2015's best-dressed couple.
Now all we ask is that this is the last crop top we see for a few more years.