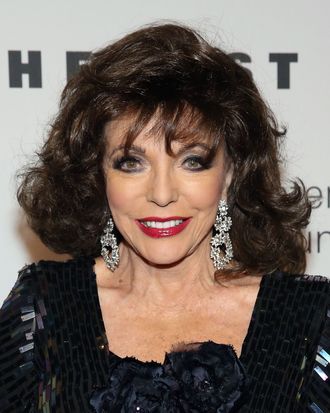 Joan Collins.
Photo: Monica Schipper/FilmMagic
Considering she lives a bit of a soap-opera life herself, it's only fitting that model turned actress Cara Delevingne calls Dynasty legend Joan Collins her godmother. The two are even working together (or at least sharing the same mysterious bill) on the upcoming Absolutely Fabulous: The Movie, which offers endless potential for campy face slaps and Champagne-glass tosses. 
As for which characters the two are playing, "it's a secret because they have lots of cameo stars," the former Alexis Morell Carrington Colby Dexter Rowan told us during the evening honoring Valentino co-creative directors Maria Grazia Chiuri and Pierpaolo Piccioli at Lincoln Center. "We shot in the south of France about two months ago."
The Golden Globe–winning actress, who has expressed godmotherly concern for Delevingne in the past, must also have imparted some sage career tips along the way. What, the Cut inquired, has she told her about acting?
"Don't. That's what I always say to [Delevingne]," explained Collins. "I said to her — from when she said she wanted to be an actress when she was about 16 — I said, 'You know what Jack Nicholson always said in that movie As Good As It Gets? 'Just what the world needs: another actress.'"
"No, but I told her, 'Just learn your lines and be as honest as possible,'" she added.
So here's to a truly honest, totally raw, knock-down drag-out smackdown in a lily pond sometime in Delevingne's career future.